LG Electronics is looking to enhance its penetration into Europe's TV market with Disney contents.
It partnered up with Disney, which recently decided to provide its OTT (Over-the-top) service "Disney+", and is providing technical support so that Disney+ can be played in real time through smart TVs. It is expected that this partnership will help market LG Electronics' TVs as number of hours watching TV has increased due to COVID-19.
LG Electronics announced that it would provide Disney+ service through its smart TVs in France starting from April. One can watch Disney contents in real time if he or she downloads Disney+ app through LG Electronics' smart TV that satisfies standards.
LG Electronics has reinforced "contents marketing" by providing Disney+ service through its smart TVs in the United Kingdom, Ireland, Spain, Italy, Germany, Switzerland, and Austria starting from earlier this month. As a result, the number of European countries that LG Electronics provides Disney+ service for has now increased to 9 including Netherland.
People with LG smart TVs in these 9 countries can watch movies and shows from Walt Disney Studio, Pixar, Marvel Studio, and Lucasfilm.
Disney+ app is available for latest smart TVs and 2016 smart TVs and newer TVs that have LG Electronics' platform "webOS 3.0". Customers with these TVs will be provided with a firmware upgrade. If the OS of a smart TV is not compatible with Disney+ app, the app will not be available.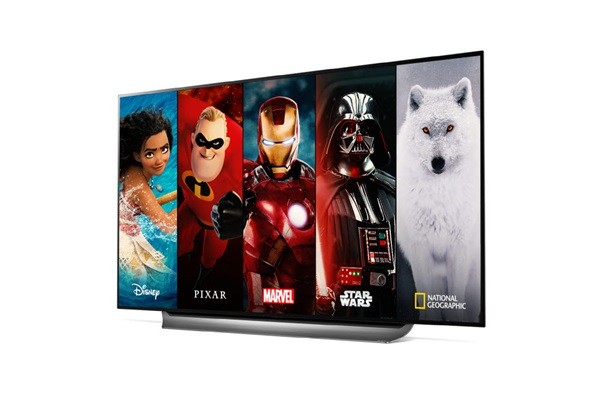 LG Electronics is already providing such service in the U.S., Canada, Australia, Netherland, and New Zealand. It is also planning to provide the service in South Korea when Disney+ will be made available.
LG Electronics has included apps such as Disney+, Netflix, and Apple TV+ to its smart TVs so that various contents are provided through its TVs.
Smart TV with internet access provides various functions such as web surfing, VOD (Video on Demand), and gaming through installation of various apps. Smart TV was responsible for 90% of the entire shipments of TVs in 2019. As a result, OTT platforms that provide real-time movies and shows have been drawing popularity
LG Electronics has prepared for such trend by applying webOS to its smart TVs. If an OTT platform is not compatible with the OS of a smart TV, contents from the platform will not be played. Such move by LG Electronics is part of LG Electronics' open platform, open partnership, and open connectivity strategy.
Because Disney contents are popular within European countries, they are helpful in securing customers. After LG Electronics recently did a survey on 2,000 adults in the United Kingdom, 9 out of 10 people responded by saying that they still watch Disney movies. As number of hours spent staying at home has increased due to COVID-19, expansion of Disney+ service will help advertise LG smart TV.
"90% of respondents responded by saying that they still watch Disney movies." said a representative for LG Electronics. "As level of preference towards Disney contents is high, our partnership with Disney will also help us advertise our smart TVs."
Staff Reporter Kim, Yongjoo | kyj@etnews.com