As working from home has become a global trend due to COVID-19, South Korean collaboration platform "Flow" will be introduced to the U.S. market next month. Its maker Madras Check is looking to compete within the U.S. market, a birthplace for software, based on its skills that it has accumulated within the South Korean market.
"English version "BoraWork" will be launched next month and we are going to target foreign markets starting with the U.S. market next month." said CEO Lee Hak-joon of Madras Check. "We are going to provide our services within the U.S. market without any setbacks by using its public cloud services."
Flow is already a well-recognized collaboration platform within South Korea. South Korea's collaboration platform market is heatedly competed amongst multinational companies such as Microsoft (Teams) and Slack and major South Korean corporations such as Naver (LINE WORKS), NHN (TOAST Workplace Dooray), and Kakao (Agit). Madras Check introduced Flow five years ago and has been distinguishing itself within the market. Major corporations such as Hyundai Motor Company and Kia Motors and Hyundai Mobis and major companies and public departments such as Hana Tour and Ministry of National Defense have adopted Flow.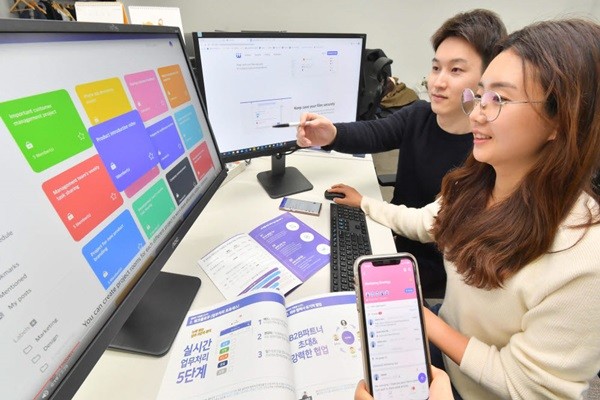 The fact that Flow is backed by advanced technologies is the reason why Flow was able to establish itself as a popular collaboration platform in a short period of time. When Madras Check did a survey on companies that use Flow, many of them praised Flow's various necessary functions and simplicity and excellent technologies and stability. Flow is praised for providing functions provided by other major corporations such as MS, Slack, and Naver without any setback. As it is the first South Korean collaboration platform centered on projects, it provides services different from that of collaboration platforms provided by major corporations.
Madras Check is planning to compete against Teams and Slack within the U.S. market where the first collaboration platform software was born. When it launches "BoraWork" next month, it is going to focus on advertisements and marketing of BoraWork using SNS and others. It will provide its service for BoraWork as a SaaS (Service as a Software). By linking BoraWork to public cloud services within the U.S., anyone in the U.S. can use BoraWork wherever and whenever he or she needs to use BoraWork.
If BoraWork establishes itself within the U.S. market, it will become the first successful case of domestic SaaS to enter a foreign market. "As we advance towards foreign markets starting with the U.S., we are going to develop Flow as a global software." said CEO Lee. "As we are putting up a good fight against major corporations within the South Korean market, we believe that we have a good chance of winning against foreign competitors within foreign markets."
"Our sales tripled last year as the level of interests towards Flow has increased from all over the world." said CEO Lee. "We expect our sales this year will increase by 500% compare to that of last year when we start seeing sales from the U.S. and others in this second half."
Staff Reporter Kim, Jiseon | river@etnews.com & Staff Reporter Gil, Jaeshik | osolgil@etnews.com