Hyundai Motor Company's "Porter II Electric" is drawing tremendous popularity within South Korea's 1-ton truck market. Out of 10 Porter IIs sold in February, one of them was Porter II Electric.
As Hyundai Motor Company has been able to prove the potential of electric vehicle within the commercial vehicle market, it is expected that there will be electric midsized and full-sized commercial vehicles in the near future as well.
According to CarlsYou, 767 vehicles out of 7896 Porter IIs sold in February were Porter II Electric. The number of Porter II Electrics sold in the past three months is 1,183. After 36 Porter II Electrics were sold in last December when Porter II Electric was launched for the first time, Hyundai Motor Company sold 380 and 767 vehicles in January and February respectively.
The industry initially believed that Porter II Electric would not be popular within the market due to various reasons such as inconvenient charging. However, Porter II Electric has been consistently purchased by people who are mostly made up of small business owners.
Its inexpensive fuel cost that is about half of the fuel cost for current 1-ton trucks, tax benefits, excellent driving performance, and advanced systems are some of reasons for its popularity.
Because Porter II Electric's mileage is 211km with single charge, its mileage exceeds the daily average mileage of a 1-ton truck. It has gradeability just as good as that of non-electric 1-ton trucks due to its 135kW motor and 58.8kWh battery. It is extremely quiet during drives, which is one of weaknesses of 1-ton trucks, as it does not have an engine and is equipped with sound-absorbing materials and sound-insulating materials. Because 80% of its battery can be charged in 54 minutes using a 100kW rapid charger, Porter II Electric reduces any inconvenience about waiting a long time for charging to be completed.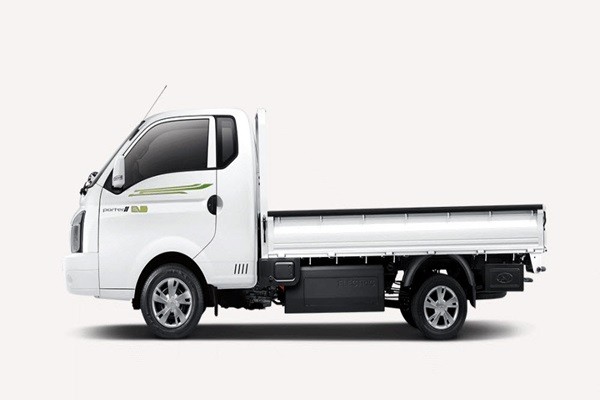 Economic feasibility is its biggest strength. One can receive tax benefits (acquisition tax of $1,110 (1.4 million KRW) and bond up to $1,980 (2.5 million KRW)) and a subsidy for electric truck (more than $14,300 (18 million KRW)) when purchasing Porter II Electric. Although Porter II Electric's price is between $32,200 (40.6 million KRW) and $33,900 (42.74 million KRW), its actual price after tax benefits and a subsidy are applied is between the latter end of $7,930 (10 million KRW) and the front end of $15,900 (20 million KRW) which is about the same as normal 1-ton trucks.
On the other hand, its annual fuel cost is about half of that of Porter II. According to Hyundai Motor Company, $555 (700,000 KRW) and $1,670 (2.1 million KRW) can be saved in one year and three years respectively by purchasing Porter II Electric rather than other equivalent 1-ton trucks. Other benefits such as reduced parking fee for public parking lots and reduced toll fee are also provided.
Porter II Electric is also equipped with many high-tech systems. It is applied with a technology that informs the driver about possible mileage as it measures the weight of loads in real time. All trim levels of Porter II Electric come with electric parking brake and smart key and its upper trim levels come with FCA (Front Collision-Avoidance Assist), LKA (Lane Keep Assist), DAW (Driver Attention Warning), and extra airbags for passenger seat.
It is expected that its sales will continue to rise for a while as contracts and deliveries continue to take place in this month as well.
Hyundai Motor Company is planning to expand its lineups of electric vehicles towards midsize commercial bus and truck. First, it is planning to launch midsized electric bus "County EV" that has a mileage more than 200km with single charge and midsized electric truck "Mighty EV". Its plan is to establish a lineup of 17 electric commercial vehicles (including hydrogen fueled vehicles) by 2025.
"Popularity of Porter II Electric proves possibility of electric vehicles within the commercial vehicle market." said a representative for the industry. "Positive perception towards electric commercial vehicles will be a catalyst towards expanding midsized and full-sized electric commercial vehicles markets."
Staff Reporter Jung, Chiyeon | chiyeon@etnews.com