LG Electronics saw its 2019 sales of home appliance business rise globally.
Although there was some fluctuation depending on regions, it is unprecedented that its sales from every region rise all together. The fact that LG electronics has led the market with brand new home appliances and carried out personalized marketing for each region had led to its positive performance in 2019.
According to LG Electronics, its H&A (Home Appliances & Air Solution) Business Headquarters saw its 2019 sales from every major region rise all together.
The amount of its overall sales in 2019 was $16.7 billion (21.0605 trillion KRW) which is 10.5% increase compared to that of 2018 ($15.1 billion (19.0511 trillion KRW)). The most significant fact is that its sales increased evenly throughout the world rather than being concentrated in a particular region. Its sales increased from South Korea, North America, Asia, Europe, South America, Middle East and Africa, China, and Russia (including CIS).
Its positive sales had also played a huge role in helping regional sales rebound. While the amount of its sales in the Middle East and Africa was $3.73 billion (4.6999 trillion KRW) in 2015, it steadily decreased to $1.71 billion (2.1521 trillion KRW) in 2018. However, the amount of its sales in 2019 increased by $180 million (226.6 billion KRW) compared to that of 2018 and recorded $1.80 billion (2.2764 trillion KRW) and rebounded after four years of a downward trend.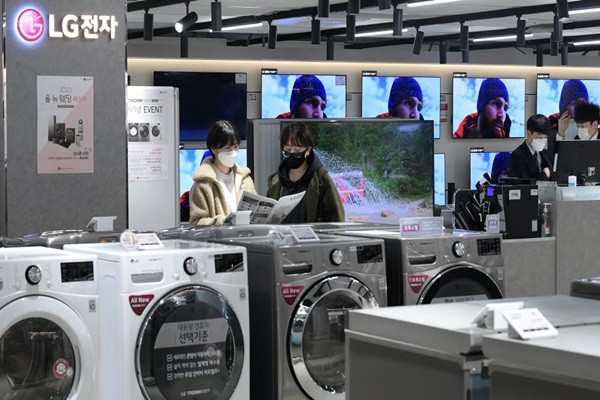 It is very rare to see an increase in sales throughout the world for a multinational company. Whirlpool, which is the world's biggest home appliances manufacturer, saw its sales increase slightly only in South America and Asia in 2019 and experienced reduction in other areas.
The fact that performance and quality of LG Electronics' premium home appliances such as refrigerator, dryer, washing machine, and Styler have been recognized has helped LG Electronics' sales in its home appliance business. Its brand and credibility in the home appliance field are also solid. Actually, variety of its products received innovation awards from "CES 2020". Also, many of its products were ranked high during product evaluations performed by foreign consumer groups and media such as "Consumer Report".
LG Electronics had also benefited from carrying out a personalized strategy for each region. It was very effective for LG Electronics to launch products that correspond to characteristics of customers from each region. For example, it introduced home appliances that can be operated with small generators for regions such as India and Africa where the electricity supply is instable and it launched personalized water purifiers depending on the quality of water.
"Although LG Electronics has recently been making its highest sales in home appliances business, it is not easy for a company to have its sales increase throughout the world at the same time." said a representative for the home appliances industry.
Staff Reporter Kwon, Geonho | wingh1@etnews.com