Samsung Electronics has begun mass-producing blazing-fast smartphone memory called "512GB eUFS 3.1" that can store 5GB, which is equivalent to one fullHD movie, in just four seconds. This will be the first time within the industry where a memory based on eUFS 3.1 standard is introduced. Through this new memory, Samsung Electronics is going to look to grab the upper hand of the global high-end smartphone market.
Samsung Electronics stated that it has launched 512GB eUFS 3.1 memory.
This memory boasts the fastest speed out of current smartphone memories. It can write over 1,200MB/s, which is about three times faster than the current eUFS 3.0 memories.
Samsung Electronics explained its newest memory is two times and ten times faster than the data processing speed (540/s) of a PC equipped with a SATA SSD and the speed (90/s) of UHS-I microSD card respectively.
The memory's sequential read speed is at 2,100MB/s. Its random reading speed and writing speed are 100,000 IOPS (Input/Output Operations Per Second) and 70,000 IOPS respectively. Due to its fast storage speed and 512GB capacity, it is suitable for storing 8K UHD videos or hundreds of large pictures.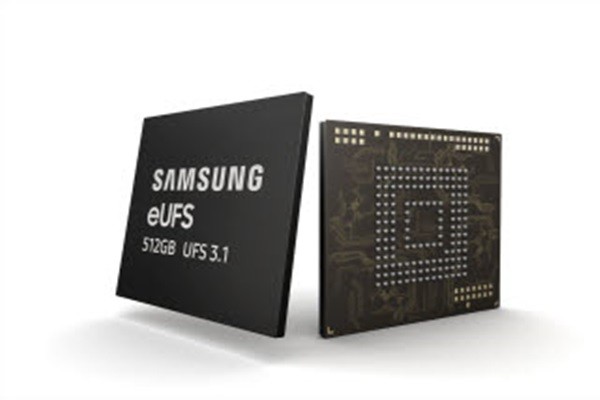 For example, it takes more than 4 minutes to transfer 100GB from a phone with a eUFS 3.0 memory to a new smartphone. However, the new memory can finish the process in just one minute and 30 seconds.
Samsung Electronics is planning to expand the lineup of its eUFS 3.1 memories in order to prepare for increased demands for blazing-fast memories from smartphone manufacturers as pictures are requiring more storage as the number of pixels of a smartphone camera has surpassed 100 million and as the number of media files such as movies is increasing as well. In addition to 512GB memory, it is also planning to launch 256GB and 128gB eUFS 3.1 memories.
"By mass-producing eUFS 3.1 memories, we will be able to resolve any frustration from consumers when they store data into their smartphones." said Vice-President Choi Cheol of Samsung Electronics. "We are going to make necessary preparations so that we can supply amounts of supplies requested by mobile manufacturers without any setback."
Samsung Electronics added that it is going to convert fifth-generation V-NAND produced from its P1 fab in Pyeongtaek Campus into sixth-generation V-NAND and that it has begun mass-producing fifth-generation V-NANDS from Xian Fab 2 as part of its strategies to strengthen its targeting on the global smartphone market.
Staff Reporter Yun, Geonil | benyun@etnews.com