Samsung Electronics has started investing in 5nm foundry lines when it has been only one year since it developed 5nm process technology. Samsung Electronics and TSMS are the only companies in the world that developed 5nm foundry process technology and have started making investments. As a result, it is expected that the competition between TSMS, which is the top business within the global foundry industry, and Samsung Electronics surrounding microfabrication will become even fiercer. Despite COVID-19, it seems that Samsung Electronics' plan of becoming the top system semiconductor business in the world by 2030 is being carried on without any setback.
According to the industry, it has been confirmed that Samsung Electronics has started making investments in 5nm foundry lines. It placed orders for necessary equipment from major semiconductor equipment makers and it is planning to set up a 5nm line inside of its foundry plant "V1" located within its Hwaseong Campus.
It normally takes between two months and three months in order to bring in and set up semiconductor equipment. Because it is heard that Samsung Electronics has started placing orders and that some utility equipment is already being installed, it is expected that the 5nm line will be completed after the end of June. Because a stabilization period that includes evaluation and improvement in production yield is needed once the line is constructed, it is likely that the line will go through full-scale operations at the end of this year or early next year.
Samsung Electronics succeeded in developing 5nm process technology in last April. When 5nm process technology based on EUV (Extreme Ultraviolet) technology is used, the size of a logic chip can be reduced by 25% compared to using 7nm process technology. Because the 5nm process technology also improves power efficiency by 20%, the technology can produce a smaller semiconductor but with an outstanding performance.
It seems that Samsung Electronics is making this investment because there is an increase in number of customers that are trying to entrust Samsung Electronics with production of 5nm semiconductors. Actually, it is heard that Samsung Electronics recently obtained an order from Qualcomm for production of 5nm modem chips. As a result, Qualcomm's newest modem chip "X60" will be produced through Samsung Electronics' 5nm foundry line.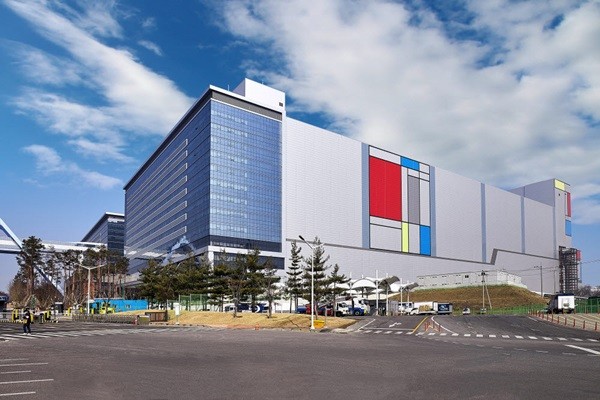 system semiconductor business. Although Samsung Electronics was an up-and-coming business within the global foundry market that had made about $58.8 billion (70 trillion KRW) annually, it has been in the second place since 2017 through active investments and competitive edge in its technologies. TSMC owns 50% of the market shares while Samsung Electronics owns the back end of 10%.
TSMS is a step ahead of Samsung Electronics as it is scheduled to mass-produce 5nm semiconductors in this first half. However, because TSMC and Samsung Electronics are the only foundry companies that own the 5nm process technology, Samsung Electronics is planning to strengthen its position within the market by accelerating development of technologies.
Samsung Electronics also succeeded in developing the 3nm process technology in January. Vice-Chairman Lee Jae-yong visited Semiconductor Research & Development located within Hwaseong Campus as his first act of management for the year and received reports on the 3nm process technology and discussed Samsung Electronics' next semiconductor strategies with the group of presidents of the DS Division.
Samsung Electronics' investment in 3nm foundry line is expected to start in 2021. Actual mass-production is expected to start in 2022. TSMS's goal is also to start producing 3nm chips in 2022. The competition between TSMS and Samsung Electronics surrounding microfabrication is expected to reach its highest point with this year as the starting point.
Regarding the investment in 5nm foundry line, Samsung Electronics stated that it is making preparations to produce 5nm chips but it cannot disclose any detailed information at the moment.
Staff Reporter Yun, Geonil | benyun@etnews.com & Staff Reporter Kang, Hyeryung | kang@etnews.com