LG Display is looking to target the mobility market by having pOLED (Plastic OLED) as its weapon. It is going to take an aggressive approach towards multinational automotive manufacturers and look to diversify its businesses by securing customers one after the other.
According to the industry, LG Display has started producing the industry's first automotive pOLED displays.
Its pOLED display will be used for Cadillac's Escalade that will be introduced in the Q2 2019. It is heard that Mercedes-Benz also decided to use LG Display's pOLED display for its latest model.
Automotive manufacturers have mostly been using LCD for automotive display. Although there were few cases where automotive manufacturers applied rigid OLED panels that were manufactured through glass substrates for some of their concept cars, this is the first time when pOLED will be used as a part of an automotive display. It is heard that LG Display has been working on R&D along with multinational automotive manufacturers for many years to develop automotive pOLED panel.
LG Display's automotive pOLED panel provides a QHD (2560x1440) resolution. It can be used for a dashboard to provide a clearer screen for drivers. Compared to current LCD panels, it has far better contrast range, faster response speed, and wider viewing angle.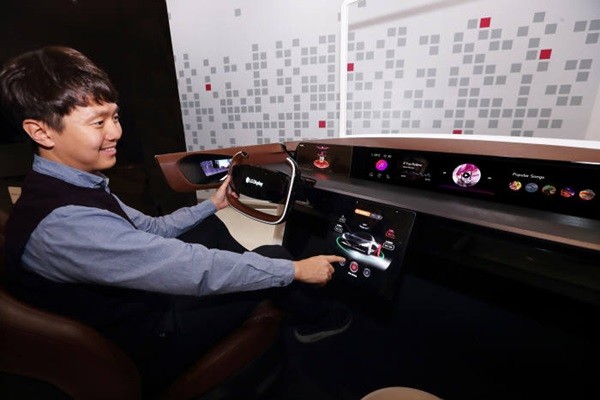 In order to develop a display that is optimized for cars, LG Display applied its own algorithm and differentiated design method. Curved screen with a radius of curvature of 1750R at the maximum improves concentration level and immersion level of a driver. Its display also prevents reflection of a light from outside and reflection of a display screen of a car onto a front window through a special film.
LG Display is planning to increase the percentage of sales of OLED panels within its automotive display business continuously by producing pOLED panels. By doing so, it is looking to gain an upper hand of the automotive display market that is growing at a fast rate due to convergence of ICT (Information Communication Technology) and car.
President Jung Ho-young of LG Display emphasized the importance of the transportation industry during CES 2020 as it is a field that has a huge potential and can be responsible for 30% of the company's entire sales.
According to a market research company called IHS Market, it is estimated that the number of shipments of automotive OLED panels will increase from 110,000 units this year to 410,000 units in 2021. The number of shipments in 2026 is estimated to be 4.6 million units resulting in an average annual growth rate of 80%.
In this market, LG Display's sales in 2019 were responsible for 20% of the entire market shares and helped LG Display surpass JDI from Japan and finish first for the first time. Starting with production of automotive pOLED panels, LG Display will look to distance itself from latecomers and accelerate in diversifying its businesses by expanding next-generation technologies such as transparent OLED panel and roll-able display towards the automotive and the mobility fields.
Regarding LG Display's plans for supplying automotive pOLED panels, its representative stated that the company cannot disclose any information regarding its customers.
Staff Reporter Yoon, Heeseok | pioneer@etnews.com