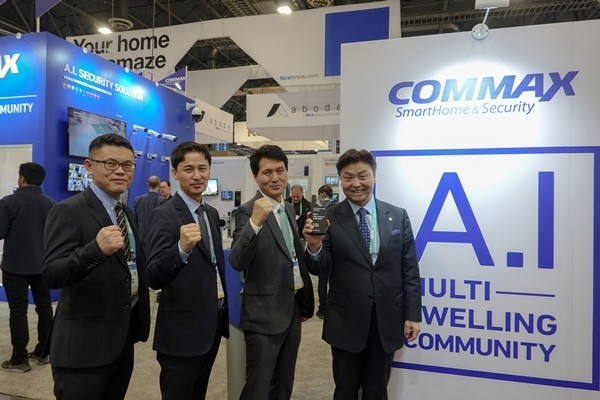 COMMAX showcased their service centered smart home solution, 'A.I. HOME', at CES 2020 held in Las Vegas, USA, and was selected as one of the 'Top5 Korean Products of CES 2020'.

Overseen by ETNews, 'Top5 Korean Products of CES 2020' is a project that considers the originality, marketability, mass production potential, and investment value to select Korean products and services from Korean SMEs and venture companies that must be noted at this year's CES.

COMMAX achieved astounding progress, steadily participating in exhibitions since first participating in CES in 2018. With their meeting in CES serving as a starting point, they have been supplying smart home systems to Canada's Smart ONE and luxurious residence buildings. They also conduct hotel solution businesses with Lido Hilton. In addition, they are pushing to supply smart homes to the Kuwait, UAE and Middle East market's Smart City Project, Vietnam, Indonesia, and the SEA market.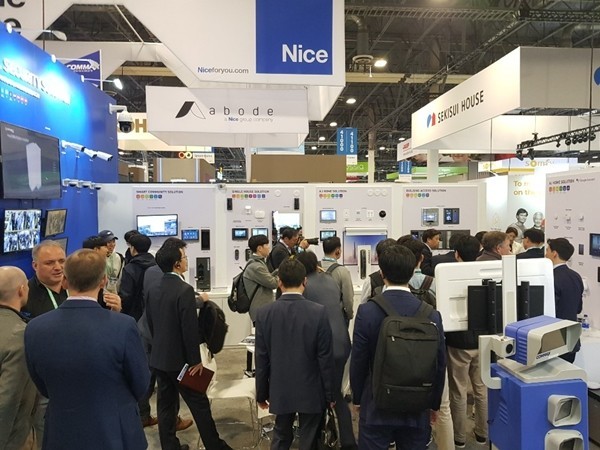 With the 'A.I HOME SOLUTION' that COMMAX introduced as its main attraction, you can experience how the smart home service can be realized in an actual household. Centered around COMMAX's wall pad, you can control the lights, blinds, or heating with gesture or voice recognition. One of the big points was being able to view a room with the actual A.I HOME service installed through VR glasses.

The most notable thing from the 'SINGLE HOUSE SOLUTION' was the smart mirror. You can experience various scenarios with the IoT devices that are around. For example, if an IoT device senses a foreign intrusion, the CCTV pops up on the smart mirror. You can also check the state of the home or control devices. In particular, you can experience services necessary in real life, such as the service that analyzes baby crying sounds for newlyweds who are raising their baby for the first time, and provides health measurement information such as heart rate and stress index through the analysis of pupil movement and functions which shows whether they are hungry or asleep.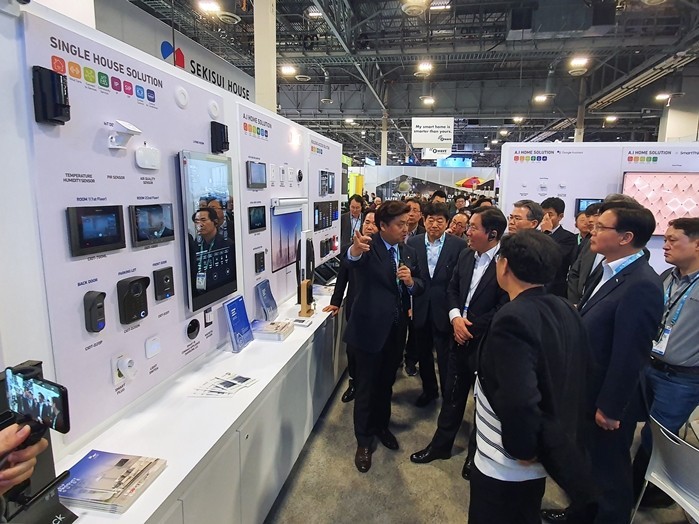 You can see COMMAX's smart home service actually being used in 'SMART COMMUNITY SOLUTION'. You can see smart home system provided to LH in the case of Korea, and IoT for townhouses that were installed in Canada for overseas cases. You can see advanced AI security systems in 'A.I SECURITY SOLUTION'. In particular, 'VMAX' finds videos you want with the AI security system that COMMAX is proud of, and showcases services such as video recognition, access control with voice recognition technology, and parking control services.

You can experience the Google Home and Samsung Smart Things linked service in 'A.I HOME SOLUTION'. It was set up to allow people to better experience COMMAX's smart home through voice recognition and simple scenario experiences, and chatbot services. In particular, seeing it connecting to Samsung household appliances creates an illusion of experiencing the smart homes of the future.

If you go into the room in the middle of the booth, you can have a more immersive experience of COMMAX's smart home. The light turns on automatically when you go through the entrance. A simple gesture opens the curtains, revealing the smart mirror. The smart mirror can be used as a wall pad, and can control each device.

COMMAX is preparing for the age of AI through cooperation. Not only are they establishing a win-win relationship with companies leading AI technology development like Google or Samsung Electronics, but with small startups as well. Startups discovered by their subsidiary company, COMMAX Venturus, have participated in CES with COMMAX. Connecting various smart home products that can be conveniently used by users and showcasing a differentiated smart home service, it is drawing a lot of attention.

Electronic Times Internet Reporter Eunjung Judy Yu(judy6956@etnews.com)