Naver and Kakao, which are the two major web portals in South Korea, have entered an election mode as the general election is set to begin in April.
They have formed internal task forces (TF) that are related to South Korea's 21st legislative election that will be held on the 15th of April and they are looking to minimize any political controversy. They have also begun working on special websites.
Request for prohibition of real time most searched word service during the election period, which was requested by opposition parties initially, has seen a lesser level of pressure as Naver and Kakao have taken initiatives such as changing their searched word services.
There will not be any special discussion with National Election Commission (NEC) either because there is a lesser chance of arguments related to real time most searched word service as Naver and Kakao have restructured their services.
However, Naver and Kakao are still taking a cautious approach as regulatory bills related to real time searched word and comment services are still pending within the National Assembly.
◊Naver and Kakao take initiatives regarding their real time most searched word services
During a parliamentary inspection of the government offices last year, Liberty Korea Party stated that Naver and Kakao need to stop their real time most searched word services during an election period because the services can be utilized to control political powers.
At that time, CEO Han Seong-sook of Naver and CEO Yeo Min-soo of Kakao responded by saying that they would look into the request by Liberty Korea Party after discussing with relevant agencies such as NEC.
Afterwards, Naver and Kakao have taken rapid approaches. Before political pressures mounted on them, they quickly adjusted their services.
Since the fourth quarter of last year, Naver has provided real time most searched words by age groups. It has also applied RIYO (Rank-It-Yourself), which is a searched word recommendation system based on artificial intelligence (AI), to its real time most searched word service. Its service has been adjusted so that an individual can adjust the level of disclosure of real time most searched words related to event, marketing, and similar information. As a result, this can prevent a particular politician from owning the significant part of the upper rank of real time most searched word ranking. Kakao is closing its service from Daum starting from February. Instead, it is planning to put out a new service that intends to express issues of common interest in real time.
Naver and Kakao have been reducing their involvement in their news services. They have already introduced 100% AI editing to their news services. They have gotten themselves out of the way of a controversy of them being politically bias by handing editing rights to machines and outside media.
Naver handed over the rights to leave comments on its news service to the press in October of 2018. It restructured its mobile page last year and changed the structure of its news service so that readers can subscribe to its service by either selecting to be a media or a reporter. It is planning to discontinue reprinting fee system and hand over the advertisement business rights to the press.
Kakao is also planning to completely restructure its news service during the first half of this year and it is planning to go towards subscription that expands options for readers.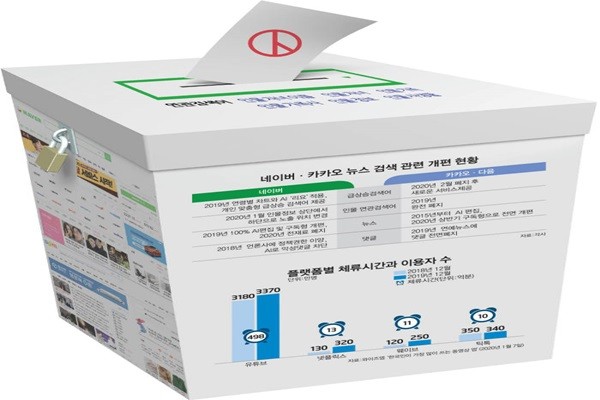 ◊Naver and Kakao still taking a cautious approach due to uncertainties
Naver and Kakao have also adjusted their relevant search word services related to a person. Kakao stopped its service from Daum and KakaoTalk's #Tab since December of last year. Naver placed relevant search words related to a person from the top of its website to the bottom this month in order to reduce amount of disclosure. Kakao and Naver have announced that they are looking to improve side effects and usability respectively.
"Relevant search word services related to a person have been a sensitive topic as Naver and Kakao have not provided relevant search words related to candidates during an election period." said a representative for the internet industry. "They have either eliminated or downscaled such service."
Although Naver and Kakao are pushing to restructure their searched word services and news services as quickly as they can, some are concerned that it will take a long time before such services become stabilized as Naver and Kakao decided to quickly adjust their services due to outside pressure.
"After Naver introduced its AI-based editing algorithm to its news service, there has been a phenomenon where straight news with similar information have been drawing traffic." said Journalists Association of Korea in last May. The association was stating that special news and in-depth reports that the press had worked hard for were not tied as a cluster and that the chance that they would be edited as recommended news was also low.
It is also unclear on how many users will USE RYIO introduced by Naver in last November. "Application of individualization even without having users recognized of such is the recent internet service trend." said a representative for a web portal. "System that requires users to adjust the level of disclose constantly can bring inconvenience."
Some are also concerned about reverse discrimination due to the fact that there is only pressure on South Korean web portals. The National Assembly is currently discussing a revised Information and Communications Network Act that will prohibit macro-fabrication on real time most searched words and comments. It is going to require technical measures to prevent businesses from controlling searched words and comments.
"Even without political reasons, web portals are doing everything they can from a business standpoint." said a representative for the internet industry. "Even if the law has a proclamatory meaning, it will ultimately lead to a punitive regulation."
Staff Reporter Kim, Siso | siso@etnews.com