South Korean Government has declared a paradigm shift from an IT powerhouse to an AI powerhouse.
It has started a long journey to become world's third and tenth best country when it comes to competitive edge of the digital era and quality of life respectively and to create up to $391 billion (455 trillion KRW) from AI-based intellectual economy by 2030.
During the 53rd Cabinet meeting held on the 17th with President Moon Jae-in as the presider, South Korean Government announced its 'AI national strategies' that include future national visions and strategies for the AI era.
AI national strategies, which are made up of 100 main projects from 9 main strategies in 3 main fields, are South Korean Government's plan and innovative economy and society plan to reach a new economy and to implement a better society (life) through AI.
South Korean Government is going to establish a leading AI ecosystem, become a country that utilizes AI the best, and implement people-centered AI to become an AI powerhouse.
It is going to expand AI infrastructures to create the world's best AI ecosystem. It is going to come up with nationwide AI strategies that consider characteristics of major bases by 2020 and completely open public data in 2021.
It is looking to become world's best AI semiconductor country in order to secure competitive edge in AI technology. Based on the competitive edge of memory semiconductor that is already a world-class level, it is going to invest $868 million (1.0096 trillion KRW) between 2020 and 2029 to secure key technologies in AI semiconductor and to develop a new semiconductor called PIM (Processing-In-Memory).
It is going to establish a roadmap for negative regulation during the first half of next year for the AI field under a basic policy that will provide an approval before a relevant regulation is established and create an appropriate regulatory system by establishing a 'legislation team for future society'. It is also going to start promoting AI startups that are looking to become a global company on full-scale by holding an AI Olympics next year.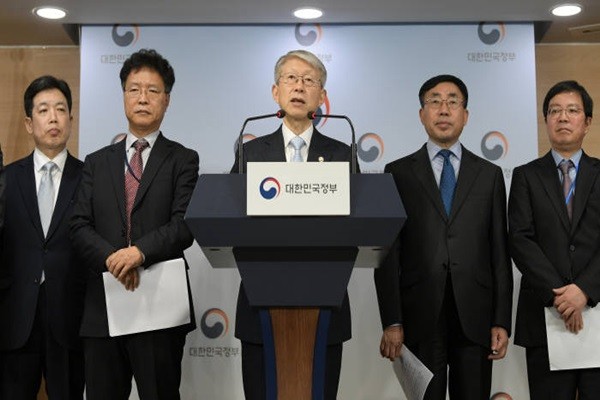 In order to become a country that utilizes AI the best, South Korean Government is going to increase amount of education on AI and software for elementary and middle school students so that the people can easily learn software and AI at an early age. It is going to allow establishment and expansion of subjects related to AI and diversify AI programs for graduate schools. It is also going to include AI and software as basic subjects of teacher training system and require public workers and servicepeople to learn AI.
E-government system, which is currently a world-class level, is going to be converted into an AI-based intelligent government system. South Korean Government's goal is to provide high-level public services through state-of-the-art ICT infrastructures and AI and improve satisfaction level of the people.
To implement people-centered AI, South Korean Government is going to expand job safety net so that benefits related to AI technology are not concentrated on a particular group of people and it has also established a plan for political and social conflicts by defining ethics on AI.
South Korean Government is planning to execute these plans by applying most of them to every relevant department's work plans next year.
It is going to reestablish the Presidential Committee on the 4th Industrial Revolution as a national AI committee that examines AI national strategies in order to execute its strategies effectively. It is planning to secure executive abilities by holding strategic meetings by field with the president as the presider.
"It is extremely important for us to actively deal with huge changes and to achieve fruitful by executing these strategies as quickly as we can." said Minister Choi Ki-young of Ministry of Science and ICT. "We are going to do our best to achieve results early through active communications between departments."
As South Korean Government has established a roadmap to become an AI powerhouse during the Fourth Industrial Revolution era, it will be important for South Korean Government to bring out cooperation and support from the National Assembly related to regulatory innovation and budget.
Staff Reporter Park, Jisung | jisung@etnews.com & Staff Reporter Sung, Hyeonhee | sunghh@etnews.com