Samsung Electronics is planning to present a new TV paradigm that is specialized for sound quality.
After focusing on superhigh quality TVs, it has begun focusing on TVs with superhigh sound quality. It is planning to display TVs with 3D sound quality that surpasses the sound quality of current TVs as its major exhibits at CES 2020 that will be held in Las Vegas in early 2020.
According to the industry, Samsung Electronics has developed a 'TV system' that combines a TV with 3D sound that helps viewers to feel like they are actually in a situation shown by TV and a sound bar.
Some of the candidates for a brand name will be 'Samsung Symphony', 'Q-Symphony', and 'Samsung Q-Symphony'. Samsung Electronics has recently applied for trademark rights on these names through many patent offices. It is heard that 'Samsung Symphony TV' will be the most likely name for its new TV.
It seems that Samsung Electronics has chosen the name 'Symphony' to indicate that TV sound and a sound bar are performing a concerto like performing a symphony.
Connecting sound from a sound bar to 'Samsung Symphony TV' separated from TV speakers is the keyand this is the first attempt within the industry.
Until now, sound from a TV and sound from a sound bar have operated separately. When a sound bar is turned on, sound from a TV is turned off automatically. These two sounds have never operated at the same time due to technical limitations.
'Samsung Symphony TV' will have two separate speakers that will have their roles divided based on sound quality that is optimized for a content and each have two different ranges of sound.
Ultimate goal of an audio system is to play sound that is close to the original sound as much as possible. It is difficult to perfectly play audio frequency that a person can hear with just single speaker. As TVs have become thinner, it has been difficult to provide sound that is close to the original sound with TV speakers. As a result, TV manufacturers have been selling superhigh quality TVs and sound bars together.
However, there are also limitations with a sound bar. For example, TV speakers have better level of immersion than a sound bar that is separated from a TV for a clip where a person is talking.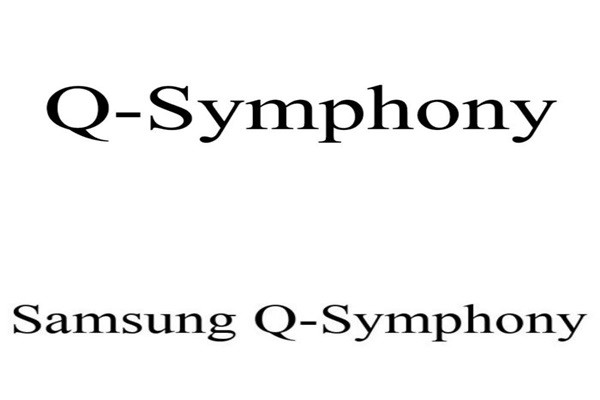 Samsung Electronics has been looking for ways to overcome limitations of a sound bar. It has divided speakers into a speaker for low range of sound, a speaker for medium range of sound, and a speaker for high range of sound. Basically, TV speakers will play medium range of sound while a sound bar will play other two ranges of sound.
It is not a matter of simply turning on and off a speaker. TV will analyze an image shown on its screen and audio signal and figure out which speaker needs to provide which sound through AI technology. It is predicted that 'Samsung Symphony TV' is based on crossover network technology that separates signal sound of speakers.
Reason why Samsung Electronics has focused on improving TV sound is because there has been an increase in demands for superhigh quality sound that fits superhigh quality TVs. Samsung Electronics decided to use a technology developed by an 'audio lab' that is comprised of audio experts and established in the U.S. by Samsung Electronics in 2013.
With launching 'Samsung Symphony TV' as the starting point, Samsung Electronics' goal is to expand the center of the paradigm of premium TVs from 'quality' to 'sound quality'. It is also planning to drastically shift its marketing cost towards sound quality.
'Samsung Symphony TV' brand will be applied to new 8K QLED TVs that will be released in 2020 first.
Samsung Electronics has also established a new strategy for premium TV sound bars. It is planning to introduce many new super-premium sound bars at CES 2020.
"While Samsung Electronics' strategy on its TVs has been focused on super high quality, superhigh quality sound will become a new topic starting from 2020." said a representative for the industry. "Change in a strategy of Samsung Electronics that has been leading the TV market globally will have huge impact on the entire paradigm of premium TVs."
Staff Reporter Park, Sora | srpark@etnews.com