Smart Interior Forum introduced 'Smart Interior Open IoT Platform' during '2019 Smart Interior Remodeling B2B Roadshow' that was held at Managing the Science and Technology Center on the 14th. This platform is expected to lower entry barriers of the IoT (Internet of Things) market for small to midsize interior companies and establish a foothold for commercialization.
2019 Smart Interior Remodeling B2B Roadshow, which was co-hosted by Smart Interior Forum, Korea Association of Smart Home (KASH), and Korea Furniture Association (KOFA), had 200 representatives from relevant industries such as interior and IoT device in attendance.
Smart Interior Forum was established in June of 2018 in order to expand the smart interior market in South Korea and grow 40,000 interior remodeling companies and create jobs. It has public enterprises, major companies, small to midsize companies, venture companies, startup companies, and small businesses as members.
The forum is planning to lead commercialization of the smart interior market through 'Smart Interior Open Standard Platform' developed by an IoT company called Grib. It is planning to bridge 40,000 interior companies and ICT (Information Communication Technology) companies due to increased demands for IoT convergence and integrated services and support development of various smart interior items.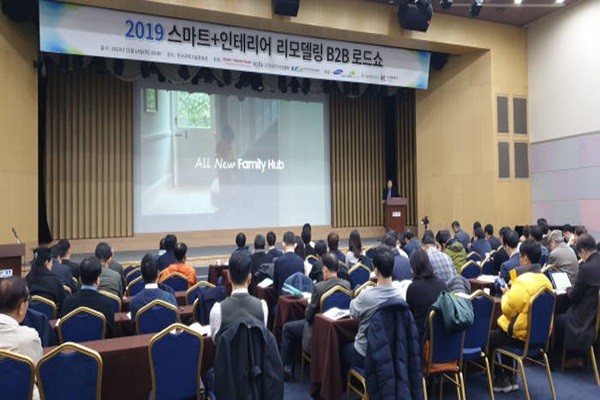 "We are going to select a testbed by end of this year and finish verification tests on smart and interior forum platforms and devices during the first half of next year." said Chairman Cho Wie-deok (professor of Ajou University) of Smart Interior Forum Management Committee. "We expect that the smart interior market will be commercialized on full-scale by the second half of next year."
"Through mutual connection between companies in interior, IoT, home appliance, and construction, many items will be developed from various industries such as healthcare, distribution, insurance, finance, and education." said Chairman Cho. "Our platform will provide an opportunity for creative ideas that can provide various services to residents to be commercialized."
Grib demonstrated its server-less independent hub called during the roadshow and it had drawn the eyes of attendees by introducing 'Smart Interior Open IoT Platform'. Grib along with the forum are looking to create a smart interior ecosystem that connects many device manufacturers with interior companies.
"Our Smart Interior Open IoT Platform connects various things such as electricity, light, and gas and it can control and manage things through single standard application." said CEO Jung Yeon-kyu of Grib. "It will be able to reduce the enormous cost from establishing platforms during a process of constructing smart interiors for individual interior company or small to midsize construction company by almost 80%."
"Our intelligent hub that operates without server or cloud connects many IoT devices and interior objects and it prevents personal objects from being exposed through hackers and others." said CEO Jung. "It provides various smart home IoT package services that are at the level of customers' eyes.
Staff Reporter Lee, Joonhee | jhlee@etnews.com