South Korea's distribution market for semiconductors is quickly changing from the market centered on offline and authorized dealers to the market centered on 'online' and 'direct management system'. This change is especially prevalent within the field of analog semiconductor as distribution and manufacturing structures of semiconductors have become more simplified.
Texas Instrument, which is the world's top analog semiconductor manufacturer, ended its partnership with previous two distribution dealers, which are WT Microelectronics and Avnet, last month and it has unified its distribution channel as 'Arrow Microelectronics'. One can purchase TI's semiconductor chips through WT and Avnet until the end of next year.
"Through a recent bidding, TI has finalized on Arrow Microelectronics as the sole distributor of its products." said a representative for the industry. "Even Arrow will manage distribution at the minimal."
"In order to expand our relationship with our customers, we are going to start working with small distributors such as OEM (Original Equipment Manufacturer)." said TI. "We are attempting this change from a long-term perspective."
The industry believes that TI will supplement sales personnel first in order to supplement tasks done by distributors and then start selling its products on its own by building up its online platform. It is heard that TI has been preparing for many years for the recent change. It has been managing its inventory through AI and it has been actively investing into online transaction platform.
South Korea's distribution industry is paying sharp attention to recent moves by TI. It is heard that ST Microelectronics and Analog Device are also observing moves by TI and are looking into changing their current distribution models.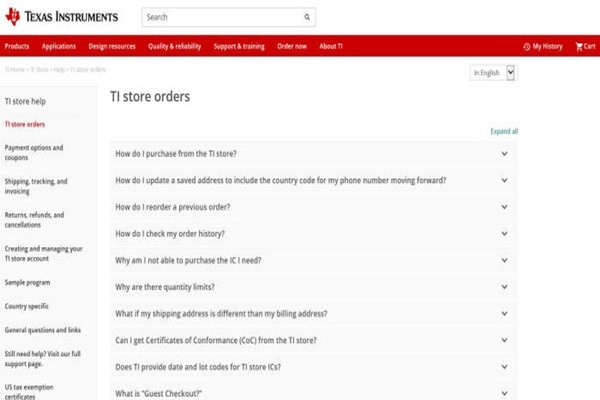 Distributors have been selling products to small to midsize customers and providing them with necessary technologies. Excluding major companies, small to midsize manufacturers have been purchasing products through distributors. However, situation has changed as the market is becoming more centered on major companies. As a result, distributors that have been dealing with small to midsize companies have begun to lose parts.
"Because most of sales of semiconductor manufacturers comes from major customers, the amount of supplies of small to midsize companies is small." said a representative for the industry. "Although small to midsize companies will begin to feel more inconvenient as the market shifts towards online sales, it is possible for companies like TI because they are confident in quality of their products."
Another reason why distributors are beginning to disappear is because number of components per chip has become much higher than before. 'Unified chip' has been the trend within the semiconductor market recently. As semiconductor companies begin to implement microfabrication process such as 7nm EUV (Extreme Ultraviolet), single chip can now perform many roles. Unlike in the past when each distributor had sold many different chips, semiconductor manufacturers can now sell their products on their own with their current personnel. As a result, restructuring within distributors will be inevitable.
South Korea's distribution industry is looking for a countermeasure. Distributors are either doing everything they can to find a replacement for TI or they are joining forces to look for a way to survive. It seems that the number of distributors will go down and that the remaining distributors will become much larger. While there were more than 20 traditional distributors in South Korea even just 10 years ago, now there are only one or two businesses that are operating as distributors.
Experts believe that major OEMs will either manufacture their own chips or work with major semiconductor companies while small to midsize companies along with remaining major distributors will depend on design house.
Staff Reporter Kang, Hyeryung | kang@etnews.com