As fingerprint recognition issue is found on the Galaxy S10 and the Note 10 series, it will be interesting to see whether the impact will spread to related components industries and next models.
According to the industry, it has been confirmed that the Galaxy S10 and the Note 10 series can be unlocked even if one does not place his or her finger on top of a silicon case.
While the devices recognize only pre-registered fingerprints, they can recognize protrusion pattern that is printed inside of a silicon case as one's fingerprint. Some silicon cases have this pattern printed inside of them to prevent a device from sticking to them.
"We are working on a software update that will prevent devices from recognizing dot pattern." said Samsung Electronics after receiving reports from its consumers and confirming the issue.
However, sense of insecurity has not disappeared despite a statement from Samsung Electronics because the issue involves 'ultrasonic fingerprint sensor' that has been emphasized by Samsung Electronics as the state-of-the-art fingerprint recognition technology.
When Samsung Electronics was introducing Galaxy S10 earlier this year, it emphasized that Galaxy S10 would not be penetrated by fake fingerprints due to application of world's first ultrasonic fingerprint sensor. Also, Qualcomm who supplied the sensor boasted about the performance of its sensor by stating that it can differentiate fingerprints on fingers that have dirt, dust, or water on them.
Unlike other fingerprint sensors that are placed outside of a device as a separate button, ultrasonic sensor is placed inside of a main device on the back of a screen. As a result, it has received spotlight as the state-of-the-art technology that can implement 'full-screen' design. This is the reason why Samsung Electronics applied the technology only to its Galaxy S10 series and Note 10 series that are flagship models.
However, credibility of this technology has received massive blow as it was penetrated with single cheap silicon case when it is expected to differentiate fake fingerprints.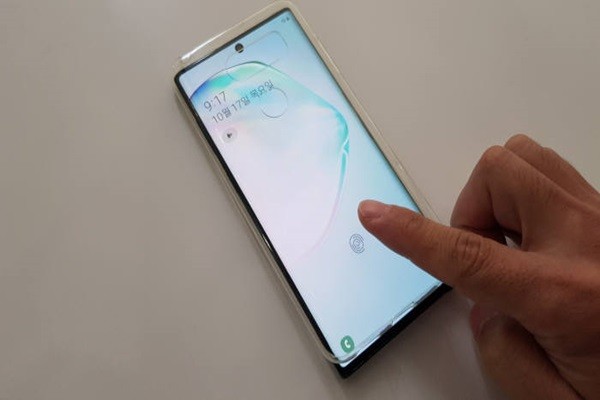 Cause of the issue is not clear as well. Basic principle of a fingerprint sensor is based on a sensor's ability to sense different fingerprint characteristics and to verify one's identity.
However, a question rises as no one knows how protrusion pattern on a silicon case is seen as identical information as one's fingerprint that is registered.
According to the industry, Samsung Electronics is planning to include the ultrasonic fingerprint sensor to its next flagship Smartphone that is scheduled to be released during the first half of next year. It is heard that Samsung Electronics is still working with Qualcomm for its models that are scheduled to be released next year.
Although it is heard that Samsung Electronics and Qualcomm are developing the next generation of the ultrasonic fingerprint sensor so that it has a wider range of fingerprint recognition and improved recognition rate and speed, it will be interesting to see whether there will be any change to their plans due to the recent issue.
While Samsung Electronics applied iris recognition function and button-type capacitive fingerprint recognition function to its Galaxy S9 series, it applied ultrasonic fingerprint sensor for the first time this year. The module for this sensor is made by Chinese and Taiwanese companies while the algorithm is based on a solution from a South Korean security company called Suprema.
Ultrasonic fingerprint recognition function has created discontent among consumers when the Galaxy S10 series were released due to low recognition rate. Many consumers said that it was inconvenient to use the device due to poor recognition ability.
As a result, Samsung Electronics has increased recognition rate through a software update. However, some say that the software update may be the cause of the recent issue.
Staff Reporter Yun, Geonil | benyun@etnews.com & Staff Reporter Park, Jungeun | jepark@etnews.com