It is expected that cost of using network, regulation that prevents from a pay TV business having more than 33% of market shares, fake news, and security and quality of 5G network will be handled as pending issues during the last inspection of government offices for this year by Science, ICT, Broadcasting, and Communications Committee.
Although some predict that the inspection will go smoothly, others also say that collision between opposing parties will be inevitable due to bus Wi-Fi project and fake news that rumored to involve the family of Minister Cho Kuk of Ministry of Justice (MOJ).
◊Inspection to focus mostly on solving discrimination between domestic and foreign companies
Although commercialization of world's first 5G network is the biggest telecommunication-related issue that will characterize this year, it is likely that 'discrimination on the cost of using network' will be at the center of discussions during an inspection on telecommunication sector. People who are in charge of South Korean corporate bodies of multinational CPs (Contents Provider) will be present as witnesses, and South Korean ISPs (Internet Service Provider) and CPs will also be present as witnesses and testifiers. Fact that Korea Communications Commission (KCC) lost to Facebook during the first trial of an administrative lawsuit regarding changes to access routes has brought about interests from the National Assembly. While the National Assembly will argue that Facebook purposely changed access routes, it will also discuss about changing regulations on 'damage on people' to be more realistic. In addition, issue on discrimination between South Korean companies and foreign companies regarding tax evasion and others will also be discussed.
"Multinational CPs take up 67.5% of LTE traffic in our country." said Byun Jae-il who is a member of the Minjoo Party of Korea. "We need to prepare plans that will prevent multinational CPs from using our network for free as soon as possible."
It is likely that quality of 5G network and security issue on telecommunication equipment will also be mentioned as major issues. There have been many issues such as lack of stability, difference between regions, insufficient coverage on 5G network starting from the early days of commercialization. It seems that there will be an interim review on 5G network after 5G network was commercialized five months ago. Security issue on Huawei's 5G telecommunication equipment is a sensitive issue that needs to consider relationships with the U.S. and China. Because the president of Huawei Korea is scheduled to be present as a witness, it will be interested to see how South Korean wireless telecommunication operators will express their opinions on using Huawei's 5G equipment.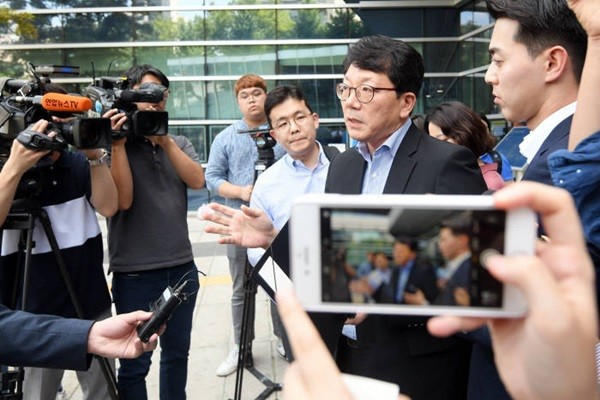 ◊Fake news and regulation that prevents from a pay TV business having more than 33% of market shares also drawing eyes
There is a high chance that 'fake news' will emerge as a key issue for Science, ICT, Broadcasting, and Communications Committee as real-time search word issue overlaps the fake news issue.
Park Kwang-on, who is a member of the Minjoo Party of Korea and the chairman of False and Fabricated Information Measure Special Committee asked for regulations to be stricter while stating that Google Korea only deleted 9.6% of information that was ruled to be illegal and harmful information. According to documents Park Kwang-on received from Korea Communications Standards Commission, there were 19,409 cases of illegal and harmful information provided by Google and YouTube between the start of January of 2015 and the end of August of this year.
Kim Sung-tae, who is a member of Liberty Korea Party and an assistant administrator of Science, ICT, Broadcasting, and Communications Committee has been pressing for discontinuation of real-time search word function of portal sites while stating that '80% of the top real-time search word of Naver is an advertisement'. He also criticized the fact that real-time search word function has become a playground for twisted public opinions.
Regulation that prevents from a pay TV business having more than 33% of market shares is drawing eyes as it coincides with M&A of cable TV companies. As the National Assembly has yet to make a conclusion on this regulation, the biggest task is for Ministry of Science and ICT (MSIT) and KCC to agree on ex-post regulation that follows abolishment of this regulation. Because MSIT and KCC have yet to come to an agreement, it is likely that the National Assembly will actively seek after this issue. It is expected that there will be an interim inspection on UHD broadcasting as well. It is important for South Korean Government to come up with its policy on UHD broadcasting as there will be renewal of permission for UHD broadcasting for national TV companies in December.
◊Inspection to also discuss about plans for the Fourth Industrial Revolution
Preparing alternative policies by examining current policies for the Fourth Industrial Revolution is a key task for Science, ICT, Broadcasting, and Communications Committee during the inspection. It will be difficult to avoid arguments on the roles of the Presidential Committee on the 4th Industrial Revolution once again during this year's inspection of government offices. The Presidential Committee on the 4th Industrial Revolution has become an advisory committee as it has yet to make any noticeable result. It is expected that there will be discussions about ways to strengthen the Presidential Committee on the 4th Industrial Revolution's roles through deliberation and adjustment after starting with a fundamental question on whether they are actually needed.
There will be an evaluation on South Korean Government's regulatory reformation as well. MSIT processes 78 cases after implementing regulatory sandbox system in January. Although there are now ways for innovative services to enter different markets, ridesharing service that has brought significant amount of social controversy did not pass.
It is expected that there will be discussions about how to react to Japanese Government's regulation on South Korea's ICT industry. There will be evaluations and advices on whether MSIT has appropriate strategies and solutions that consider the reality of South Korean industries.
It is likely that it will be difficult to avoid controversies surrounding Minister Cho Kuk of MOJ during the inspection. It is expected that there will be intense political battles between opposing parties regarding the fact that Co-Link PE, which received investments from the family of Minister Cho, intervened in bus Wi-Fi project.
"Since this is the last inspection for the 20th National Assembly, there needs to be actual political plans and this inspection needs to lay down the foundation for the direction of next term of the National Assembly." said a representative for the National Assembly.
Staff Reporter Kim, Yongjoo | kyj@etnews.com & Staff Reporter Park, Jisung | jisung@etnews.com