Reason why Lam Research, an American corporation engaging in service of semiconductor equipment and making more than $8.40 billion (10 trillion KRW) in sales annually, is transferring its R&D center to South Korea is because South Korea is the leader in the memory market. It seems that Lam Research made a bold decision to transfer its R&D center because not only Samsung Electronics and SK Hynix have overwhelming standings within the memory semiconductor market that is worth $134 billion (160 trillion KRW), but it believes that they will also lead next-generation semiconductor markets in the future.
There is frequent collaboration between a semiconductor device company and a semiconductor equipment company. Semiconductor device can be made only if there is corresponding semiconductor equipment, and semiconductor equipment will be useless if semiconductor device is not developed.
R&D process takes place by having personnel from a semiconductor device company and a semiconductor equipment company visiting each other's company. Samsung Electronics' development team visits the U.S. where Lam Research's Headquarters is while Lam Research's research personnel visits Samsung Electronics or SK Hynix.
This process also takes place for companies like Intel and TSMC. They have to visit Lam Research's Headquarters, which is located in Fremont, to check its new semiconductor equipment.
However, such method of collaboration has its limits. Frequent discussions are almost impossible due to time difference and the distance between the U.S. and South Korea. Lam Research, Samsung Electronics, and SK Hynix also need to invest significant amount of time and money. In addition, there are concerns that key information and technologies may be leaked through personnel who visits Lam Research's R&D center as Lam Research deals with many semiconductor device companies.
"Although Lam Research has a designated space for a customer and allow only authorized personnel to protect its technologies, many were insecure about a possibility of having their key information and technologies leaked." said a high-ranking official for a multinational semiconductor equipment company.
One of the main reasons why Lam Research is transferring its R&D center to South Korea is because it wants to support Samsung Electronics and SK Hynix, which are its major customers, from close distance.
Actually, South Korea is Lam Research's key market. According to its business report, 35% of its sales occurs from South Korea.
It is also necessary for Samsung Electronics and SK Hynix to work with Lam Research. It is only possible for them to secure new technologies in order to further distant themselves from other newcomers and to lead future markets when they collaborate with semiconductor equipment and materials companies like Lam Research.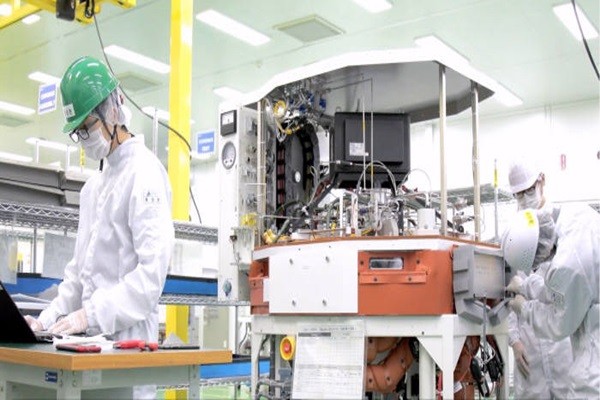 First, Samsung Electronics and SK Hynix and Lam Research have mutual interests. However, reason why Lam Research's latest decision is drawing so much attention is because South Korea will clearly emerge as the hub for the memory semiconductor industry.
Moving R&D center for a giant semiconductor equipment company like Lam Research comes with significant risks such as immediate loss of key personnel and relationships with other customers such as Intel and TSMC. Despite these risks, Lam Research believes that there will be greater worth in the future by moving its R&D center to South Korea.
By securing new technologies and IPs (Intellectual Property) through semiconductor device companies like Samsung and SK Hynix, it wants to prepare sustainable steppingstone and grab the upper hand in future markets.
Above all else, Lam Research believes that South Korea will lead the memory semiconductor market for at least ten years.
"Although current status of semiconductor markets is not great, it is expected that the semiconductor market will continue to grow even after 2030 due to increased demands and countless applications for semiconductor." said Chair-Professor Kim Joong-jo of Jeju National University. "Based on this long-term perspective, Lam Research is transferring its R&D center to South Korea believing that South Korea will become the hub for the DRAM industry."
It is understood that Applied Materials, which is the number one semiconductor equipment company in the world, decided to construct a R&D center in South Korea. It already got an internal approval and it is looking into how and when it is going to build its R&D center.
While Lam Research is transferring its R&D center to South Korea, Applied Materials is planning to construct a R&D center specialized for South Korean semiconductor companies.
It is expected that transfer and construction of R&D centers by Lam Research and Applied Materials will bring economic benefits as well as vitality to the entirety of South Korean semiconductor industry. As they are planning to do R&D on key technologies for the future, they will bring a positive cycle within South Korean semiconductor industry. It is heard that Lam Research is planning to produce key parts that go into its semiconductor equipment in South Korea through its R&D center.
In addition, it is likely that other foreign semiconductor-related companies will also flock towards South Korea as key semiconductor companies like Lam Research and Applied Materials are setting up their R&D centers in South Korea.
"When Lam Research transfers its R&D center, there is a high chance that it will hire personnel who have experiences working for Samsung Electronics and others and fresh graduates who major in physics and mathematics." said the CEO of a South Korean semiconductor equipment company. "When they learn about key processes while working for Lam Research for couple years and decide to work for other new businesses, South Korean semiconductor industry will be filled with vitality."
Lam Research has been discussing with Ministry of Trade, Industry and Energy regarding transferring its R&D center. It is going to sign a MOU with Gyeonggi-do at the end of this month and make the transfer official. It is likely that it will set up its R&D center in Gyeonggi-do where Samsung Electronics and SK Hynix are gathered.
Staff Reporter Yun, Geonil | benyun@etnews.com & Staff Reporter Kang, Hyeryung | kang@etnews.com