Samsung Electronics developed a mobile processor that integrate 5G modem and an application processor (AP). It is planning to start the production by end of this year at the earliest after supplying samples. It is also expected that this will ignite a full-scale competition with Qualcomm.
Samsung Electronics stated that it developed a 5G-integrated processor 'Exynos 980' and started supplying samples of Exynos 980 to its customers.
Exynos 980 is a SoC (System on Chip) that can be used for mobile devices and it can support 5G network and computing at the same time.
Previous processors had a separate 5G modem and an AP. Because 5G network is a technology that was recently commercialized, 5G modem and AP were built in separately.
An integrated chip is an important element that can push forward generalization of 5G Smartphones. Because it combines two semiconductors, it allows Smartphone manufacturers to develop 5G Smartphones more easily and faster. Production cost can also be reduced through simplified manufacturing process.
Because it is a key component that will expand 5G Smartphone markets, global mobile processor companies such as Qualcomm, MediaTek, and Huawei (Hi-Silicon) had competed against each other to become the first one to develop a 5G-integrated chip.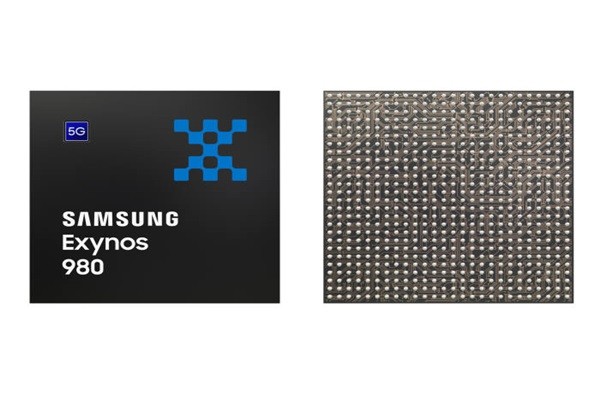 Samsung Electronics is accelerating the commercialization process of Exynos 980. As of now, only Qualcomm and MediaTek stated that they developed 5G-integrated chips.
Qualcomm and MediaTek made announcements at MWC (Mobile World Congress) that was held in February and in May respectively. However, because MediaTek has been supplying its semiconductors mainly for low-end and medium-end Smartphones, it is likely that Samsung Electronics and Qualcomm will be the only ones that will actually compete to become the first one to commercialize its 5G-integratedc chip.
Qualcomm stated that a Smartphone with its 5G-integrated chip will be commercialized during the first half of 2020. Samsung Electronics stated that it is planning to begin the production of Exynos 980 by end of this year.
The winner of the competition between Samsung Electronics and Qualcomm will be decided on which 5G-integrated chip will be the first one to be applied to a Smartphone and the type of the Smartphone.
Exynos 980 was manufactured through 8nm FinFET process technology. It supports up to 2.55Gbps in sub-6GHz 5G and it also supports a new Wi-Fi standard called Wi-Fi 6 (IEEE 802.11ax). It includes an ISP (Image Signal Processor) that can process up to 108MP and a NPU (Neural Processing Unit) that has 2.7 times better performance compared to its predecessor. Besides advanced ISP and NPU, 8-core CPU (Cortex-A77, Cortex-A55) and GPU (Mali G76) are also built into Exynos 980.
Executive Director Heo Guk of Samsung Electronics' System LSI Business Department told The Electronic Times that Samsung Electronics will contribute to generalization of 5G technology through its first 5G-integrated processor 'Exynos 980'.
Staff Reporter Yun, Geonil | benyun@etnews.com