About four to five lenses go into single Smartphone camera. For a Smartphone with a dual-camera, there are eight to ten lenses. As a result, number of lenses is proportional to the number of cameras. There is another Smartphone part that increases in number according to the number of cameras and it is a black shade film, which is also called a 'spacer', that is placed between two lenses. This film prevents irregular reflection of light that comes into a camera. When light is reflected in many directions and is scattered, a flare phenomenon where a picture looks cloudy or is stained due to an afterimage.
Black shade film is a vital part of a Smartphone camera. However, black shade film market is currently monopolized by a Japanese company called Kimoto, which is an optical film manufacturer established in 1949 that developed black shade film since ten years ago when Smartphones started to make their appearance.
KOWON T&S is now challenging Kimoto within the black shade film market.
KOWON T&S developed its black shade film by coating special black shade solution onto polyester-based film. Key to its development lies on combination of PET film and coating material.
"Chemical corrosion process is a must to develop a black shade film for a camera and it was difficult to find a way of corroding polyester film while not damaging coating material." said CEO Lee Seung-hwan of KOWON T&S. "However, we finally found a way after years of R&D."
Coating material blocks off unnecessary light that tries to come into a lens. Reason why polyester is corroded is to minimize light from scattering within a lens.
KOWON T&S found a way to corrode polyester film while not damaging coating material and developed its own black shade film for Smartphone camera.
Its black shade film has improved internal reflection. Because it does not blow away small powders when it is assembled with lenses, it improves the yield of a lens module.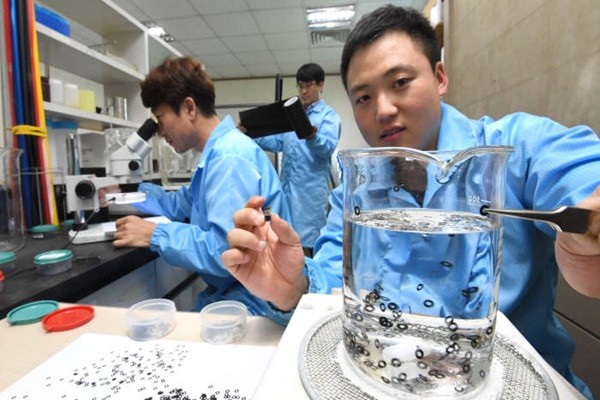 Black shade film has a small donut shape that is difficult to grab with a bare hand. Although it looks like an average part that can be made by anyone, entry barrier to black shade film market is very high as 99% of the market is owned by Japan.
However, demands for black shade films are growing rapidly. For example, Samsung Electronics and LG Electronics produce about 400 million Smartphones annually and they require at least 4 billion black shade films (five shade films for the front and five shade films for the back).
Because recent Smartphone cameras are either dual-cameras or triple-cameras, Smartphone manufacturers are asking for black shade films more than ever.
Not to face aftereffects of Japanese Government's regulation on exportation of semiconductor and display materials, it is necessary for South Korean Smartphone manufacturers to improve their dependence on Japanese companies for black shade film.
KOWON T&S believes that it has competitive edge in black shade film and is working on commercializing its black shade film on full-scale. It is currently working with lens and camera module manufacturers to apply its black shade film into Smartphone cameras. It already supplied some of its black shade films to manufacturers.
"We are confident that we now have competitive edge in performance, quality, and price of our black shade film." said CEO Lee Seung-hwan. "We are going to create an example of a successful story no matter what."
Staff Reporter Yun, Geonil | benyun@etnews.com