Eight provinces of South Korea are doing everything they can to create 'bio Mecca'. Bio-related industries are tools that they can use to vitalize local economies as the world is facing bio economy era and South Korean Government made it clear that it would promote bio-related industries.
There are more than ten research and service requests made by local governments in this year alone to prepare ways to develop bio and health industries. Most of these requests focus on establishing and expanding clusters or support centers. Cluster is a high-value infrastructure that attracts 'people' and 'money'. If a local government does well with establishing just one cluster, there will be huge positive effects on its local economy.
There is a need to look at current conditions of local governments such as whether they have secured foundations and budget to create clusters. Most of local government's plans to establish and develop clusters coincides with their strategies to secure budget from the central government. Some are concerned that local governments will compete against one another without any detailed strategy or long-term vision.
◊Local governments make 14 research and service requests in this year alone
Between January and August, there were 14 research and service requests announced through Public Procurement Service (PPS) regarding establishment of bio clusters and development of bio-related industries. Between January and August of 2018, there were only 3 similar research and service requests.
Seoul-si is currently supporting SEOUL BIOHUB to attract companies while Incheon is working with Incheon Techno Park and Incheon Free Economic Zone to establish a bio cluster in Songdo. Chungcheongnam-do is working on a plan to promote marine bio industry while Daejeon Techno Park is researching on pre-validity of establishment of foundation to promote gene medicine industry. Asan-si is looking into validity of establishing a rehabilitation healthcare healing spa industry promotion agency and preparing basic plans.
Bio boom is also sweeping through Jeolla-do. Jangheung-gun made a research and service request to change enforcement plan to expand Bio Food Industrial Complex while Jeollanam-do announced a research and service request to look into preliminary feasibility of Bio Medical Hub construction project. Chuncheon Bioindustry Foundation sent out an order looking for ways to establish bio convergence strategies and bio convergence/complex industrial complex while Hwasun-gun sent out an order for basic plans for construction of bio-health convergence/complex intelligent industrial center and analysis of feasibility study. Jinan-gun sent out an order for investigating validity of creating Maisan health tourism belt and establishing basic plans.
In Gyeongbuk Province, Korea Institute of Industrial Technology made a research and service request for establishing strategies that will vitalize bio-medical ecosystem in Yeongcheon-si and is working on this project. Daegu-Gyeonbuk Medical Innovation Foundation made a request for 'preparation of ways to develop state-of-the-art medical complex' while Andong-so made a request for 'change in development plan for bio industrial complex in Gyeongbuk'. Jeju-do also placed a research and service request for 'establishment of plans to promote bio industry'.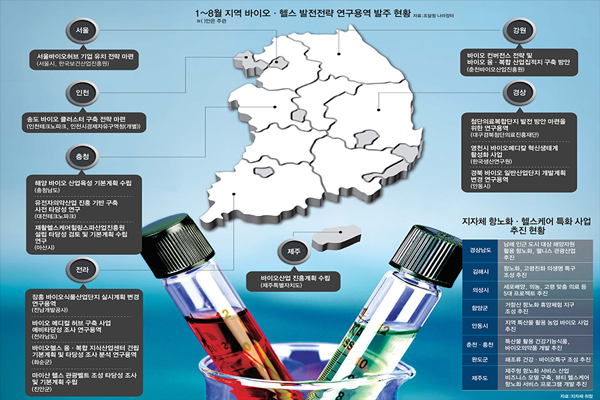 ◊Local governments set up more detailed strategies than before
High level of interests by local governments towards bio-related industries did not happen yesterday. Bio and health industries are high-value industries that include research facilities and large-scale production facilities. Because they can attract universities and research institutes on top of companies, they are perfect for vitalizing local economy. Local governments have been very active trying to set up clusters as they started to set up local strongholds to promote bio industry centered on the central government starting from 2000s.
Local governments reignited their interests in developing bio-related industries as 'second bio boom' started to take place in 2017 by exporting new medicines and entering into biosimilar market globally.
Such trend is a natural extension of South Korea's bio and health industries that are growing rapidly. Some say that local governments are setting up more detailed plans compared to how they were just looking to gain budget from the central government in the past because they are securing foundations such as facilities and environment first and setting up strategies to take a step forward. Incheon-si has prepared an opportunity to transform itself into a cluster by having major biopharmaceutical companies and announcing that it would invest $20.6 billion (25 trillion KRW) until 2030 along with Celltrion. Seoul-si is also looking to create a perfect cluster by actively attracting companies while SEOUL BIOHUB is expanding by actively utilizing geographical advantages. Chuncheon that has a local biopharmaceutical company entering into global markets and Jeolla-do that announced its plan to create a local belt through specialized bio-technologies need to develop their technologies and abilities to reach a point where Incheon and Seoul are currently at.
All of these plans and research and service requests are a positive news for biopharmaceutical and health companies. Number of startup biopharmaceutical companies recorded its highest in 2017. It is not easy for startup companies to rent an office or a research facility because bio industry requires a long R&D period. If local governments have more integrated spaces with offices and research facilities, they will be able to attract more companies.
"Startup biopharmaceutical companies are looking for office space, instruments, network, and education opportunities." said CEO Jeon Eun-hyung of Jbio Research. "Cluster is an optimal infrastructure for startup companies as they have office space and research facilities and the fact that there is an upward trend in number of integrated complexes is a positive phenomenon."
◊Local governments currently lacking long-term visions
Some say that recent trend of local governments trying to build bio and health clusters must be looked at more objectively. They are pointing out that these local governments are not considering realistic conditions and are looking ahead.
First, most of local governments do not have financial power to construct clusters, integrated complexes, and support centers. All 14 research and service requests made this year also focus on securing budget from the central government. Some are concerned that local governments would compete against one another to secure budget from the central government without any vision as South Korean Government chose bio industry as one of three promising industries for the future and is focusing its resources on bio industry.
"Because South Korean Government is investing its budget into bio industry, local governments are only focused on attracting facilities or sending out projects." said a representative for the bio industry. "It is difficult for local governments to create an environment that will last as they can only focus on short-term achievements when our industry requires more than 10 years of consistent investments."
One needs to also look at conditions realistically. There are currently 10 bio and health clusters and 23 BT Specialization Centers in South Korea. There are constant criticisms that clusters in Osong and Daegu need abilities to fund themselves on their own as they were established and are operated by South Korean Government. Also, it is too early to call clusters in Seoul and Incheon complete clusters. Experts believe that it is still too early to call any bio and health cluster a successful cluster from national perspective.
Under these circumstances, it is difficult for a local government to create a cluster without any innovative strategy or large capital. It is especially difficult for local governments that are far away from metropolitan areas to attract outstanding companies or individuals. Because there are already clusters in Seoul, Incheon, and Gwanggyo or plans to create clusters, it is difficult for local governments to prepare ways to attract outstanding companies and individuals.
"Successful cluster depends on how much talented individuals are committed." said Professor Kim Yeon-soo of Chungnam National University's Graduate School of New Drug Discovery and Development. "City environment is also important to attract talented individuals and the possibility for local governments to attract talented individuals is low compared to metropolitan areas."
Staff Reporter Jung, Yongcheol | jungyc@etnews.com