A South Korean company succeeded in developing and commercializing 'dome switch' that is practically only manufactured by Japanese companies. Dome switch is a part that is used for the volume key or the power key of a Smartphone. It is expected that South Korean Smartphone manufacturers will be able to lessen their dependence on Japanese companies for dome switches.
Synopex stated that it developed its own dome switch and is planning to supply it to Smartphone manufacturers. It explained that it received a final approval from its customers.
Synopex did not state who these customers are. However, Synopex is a partner of Samsung Electronics that supplies its power buttons or volume buttons. It can be presumed that its dome switch will be used for Samsung Electronics' Smartphones.
Dome switch is a part that operates the buttons of electronic products. Although it is hidden from outside as it is located inside of a button, it makes and breaks electric circuits and sends signals from power buttons and volume buttons to a system. Not only is it used for Smartphones, it can also be used for earphones and digital cameras.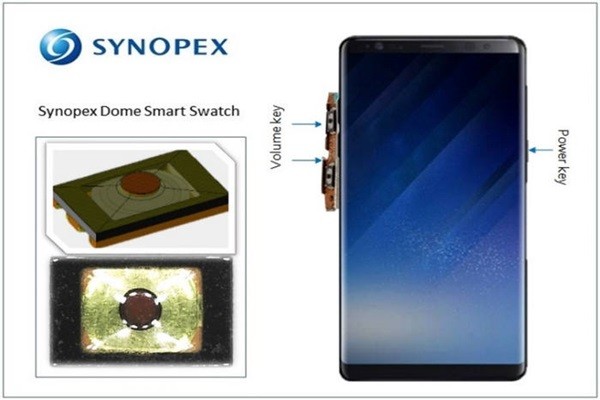 According to the industry, there are 12 billion dome switches in markets globally. Although this number is large, dome switch market is practically owned by three Japanese companies. Not only South Korean Smartphone manufacturers such as Samsung and LG use dome switches from Japanese companies, but it is heard that Apple also uses dome switches from Japanese companies. Except for few Chinese companies, almost 100% of dome switches in the Smartphone industry come from Japanese companies. It is heard that Japanese dome switch manufacturers have made their positions secure through patents and accuracy.
Synopex secured relevant patents in April of 2017 and it finally succeeded in developing its own dome switch while actively working with its customers regarding home production of dome switch. Because it already has a production facility ready for dome switch, it is expected that South Korean Smartphone manufacturers will start to use dome switches from Synopex instead of Japanese companies.
Synopex's dome switch has improved water resistance and air tightness. It also prevents short circuit or contact failure resulting from debris. In addition, it can be used longer than other dome switches due to improved contact rate with buttons.
"We received a final approval and our dome switches can be applied to any button that is currently being manufactured." said a representative for Synopex. "Not only can we replace dome switches coming from Japan, but we also expect our customers to reduce their production costs and improve competitive edge of their products."
Staff Reporter Yun, Geonil | benyun@etnews.com