It is expected that South Korea's public cloud market will be worth more than $827 million (1 trillion KRW) sometime during this year for the first time. All models such as IaaS (Infrastructure as a Service), SaaS (Software as a Service), and PaaS (Platform as a Service) are growing equally. It is estimated that South Korea's public cloud market will be worth $1.41 billion (1.7 trillion KRW) after three years.
Major global corporations are very active in South Korean market as cloud market in South Korea continues to grow. AWS (Amazon Web Service) and MS (Microsoft) already set up their data centers in South Korea three years ago. Businesses of other corporations such as Google, Alibaba, and Oracle in South Korea will be in full swing starting from this year.
Major South Korean companies specializing in different models of cloud are also focusing on expanding their businesses. It is difficult for a single company such as AWS and MS to set up a cloud system. Collaboration between associated companies from different fields such as service consulting, data transfer, and multi-cloud management is a must.
Relevant companies such as Bespin Global and Megazone Cloud along with major IT service providers are going to focus on expanding their influence within South Korea's public cloud market. Small and medium companies such as NamuTech, CROSSENT, Infranics, Atto-Research, and KINX that specialize in different fields of cloud system are going to target niche markets and look to grow their businesses as well.
◊IT service providers actively expanding their businesses according to the growth of cloud market
South Korea's major IT service providers are developing strategies and making partnership with foreign companies according to the growth of South Korea's cloud market.
Samsung SDS had made partnerships with AWS, MS, Google, Alibaba, and Google, which are top five public cloud service providers in the world, since 2013 and is pushing to become a cloud managed service provider (MSP). AWS and MS received MSP certifications and are focusing on MSP-related businesses. Samsung SDS provides entire cloud-related services such as consulting, conversion, establishment, and operation.
LG CNS is working on 'Public Cloud First Strategy', which is a hybrid strategy that applies public cloud service first and stores sensitive information into a private cloud. Rather than making partnership with particular corporations such as AWS and Google, it has partnership with various businesses. It focuses on domestic and foreign projects such as increasing cloud conversion rate of subsidiaries of LG Group to over 90% by 2023.
SK C&C provides container service that accommodates every type of cloud environment that its customers want in addition to public service. It introduced a service that combines many clouds into single cloud and manages the resulting cloud regardless of cloud service providers such as AWS and MS. Its customers are from major industries such as manufacturing, distribution, finance, and gaming.
POSCO ICT made a partnership with AWS in 2016. It provides consulting and establishment and operation of infrastructure service to companies that are looking to utilize AWS and it is actively pushing for services that provide Smart Factory solutions, RPA (Robotic Process Automation), and platforms for robots based on cloud.
Lotte Data Communication Company made partnerships with AWS, MS, Oracle, and Salesforce and Sysco to target public cloud and hybrid cloud markets respectively. It has customers from e-commerce industry, medical industry, service industry, chemical industry, and manufacturing industry. Rather than providing single cloud service environment. it is looking into multi-cloud and hybrid cloud to provide cloud service environment that is optimized for various industries.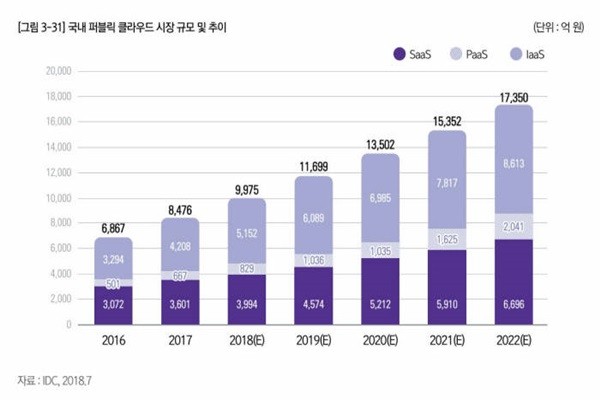 ◊Small and medium software companies also riding the growth of cloud market
South Korea's small and medium software (SW) companies are also growing their businesses according to the growth of South Korea's cloud market. They utilize their own strengths to target niche markets that do not involve global corporations such as AWS and MS.
Cloud management has become an issue as there is an increase in number of companies and public agencies that are introducing cloud platforms to their respective work. NamuTech's cloud management solution called 'Cocktail' was the main contributor to NamuTech's increased sales in the first half. Its subsidiary Acornsoft introduced a container management platform called 'Cocktail Cloud' and is targeting South Korea, Japan, and the U.S. NamuTech is seen as a major small and medium SW company that specializes in cloud management as it recorded its biggest semi-annual performance in this past first-half.
Infranics has secured new sources for sales by supplying its cloud infrastructure management product called 'M-Console' to major corporations. It recently obtained SaaS security certification for M-Console and is targeting public markets as well. It is expected that there will be more demands for Infranics' SaaS-certified product as number of public agencies that use IaaS looks to increase.
Consulting service has been very active as well as financial industries are actively introducing cloud platforms to their businesses starting from this year. CROSSENT is making positive performance in financial cloud field as well due to its past experiences from projects involving financial industries. Major financial corporations such as banks, stock firms, and life insurance companies made partnerships with CROSSENT and are working on introducing CROSSENT's cloud platform to their businesses.
Relevant cloud-specializing companies established Korea Cloud Business Cooperative last month as cloud market has become a popular trend. 50 SW companies that specialize in various fields such as security, network, and IoT (Internet of Things) have become members of the cooperative. "Since our establishment, we have been receiving offers from major cloud service providers regarding collaboration." said a representative for Korea Cloud Business Cooperative. "We are receiving calls from foreign companies, customers that are trying to adopt cloud platforms, IT service providers, and public agencies."
Cloud market is expected to take off on full-scale starting from this year. It is likely that there will be many major projects involving cloud service starting from next year. Most of large-scale public projects that are scheduled for next year will be based on new cloud technologies.
"Large and mid-sized IT service providers already made partnerships or acquired small and medium companies that specialize in cloud service to strengthen internal capabilities and to prepare for the future." said a representative for the industry. "Rather than competing against AWS and MS that are investing billions of dollars annually, we need to make partnerships with them or target niche markets."
Staff Reporter Kim, Jiseon | river@etnews.com