President and CEO Lisa Su of AMD announced that AMD would make a push towards data center market. AMD's plan is to utilize the industry's fastest processor and expand its influence within data center markets that are led by Intel.
AMD made an announcement at a conference that was held in San Francisco on the 7th that it would release '2nd Gen EPYC processor (model name: 7002 series)'.
EPYC processor is a processor for servers. 7002 series is classified as a second generation EPYC processor due to the fact that it is based on AMD's new design (architecture).
2nd Gen EPYC processor has vastly improved performance. It is the first processor to be based on 7nm process and it has twice better performance than its previous generation while reducing power consumption by half.
It offers up to 64 cores, up to 3.4GHz processing speed, and 128 lanes of PCle 4.0.
AMD is the first to release 7nm processor for servers. Intel is currently preparing 10nm processor.
Semiconductors generally require less power and produce higher performance as they become smaller. This is the reason why there has been a trend where semiconductors are becoming smaller.
AMD's plan is to utilize its technology leadership and expand its position within data center markets through technologies that are more advanced than its competitors.
Fact that CEO Lisa Su of AMD said that she would change the dynamics of data center markets indicates that she is confident in technology leadership of AMD.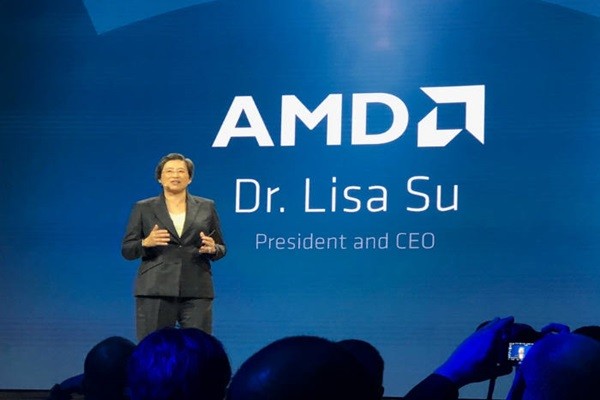 AMD has been relatively a newcomer to data center market that requires high-performance computing system. Intel practically monopolizes data center market as it owns about 95% of the market shares. However, Intel is planning to change the dynamics as it has secured technical skills that are more advanced than Intel.
AMD compared its 2nd Gen processor to Intel's processor at this event. It explained that its flagship product 'EPYC 7742' processor has 97% better performance than Intel's 'Xeon Platinum 8280L' within a cloud service environment. Also, it added that its processor is 88% and 84% better than Intel's processor within HPC (High-Performance Computing) environment and enterprise environment such as virtualization and Hadoop.
"EPYC 7742 is cheaper and has better performance than Intel's Xeon Platinum." said AMD. "Comparing performance based on price, the difference is more than four times."
AMD added that it has tightened up security that has been requested by its customers by equipping '2nd Gen EPYC processor' with a separate security chip that automatically encrypts data.
Major computing businesses such as Google, HPE, Twitter, LENOVO, and Dell EMC also went up as speakers at this event to empower AMD. Google had drawn interests from participants by stating that it would introduce AMD's processor into its 'Google Cloud'.
Meanwhile, AMD finished designing its 3rd Gen processor and is currently working on the design of 4th Gen processor and it stated that it is doing its best to secure technology leadership.
Staff Reporter Yun, Geonil | benyun@etnews.com