Samsung Electronics is starting to lean more towards ODM (Original Design Manufacturer) method rather than manufacturing Smartphones on its own. Its strategy is to improve production cost by having Chinese manufacturers responsible of development and production of products and procurement of parts.
It is expected that as most as 40 million Smartphones out of Samsung Electronics' annual output of Smartphones which is in the middle of 300 million will be produced through ODM method.
Although this strategy is Samsung Electronics' desperate measure to secure competitive edge as competitions within Smartphone market become more intense, some are concerned that such strategy can have a negative impact on South Korea's Smartphone parts manufacturers. Some also mention that Smartphone parts manufacturers should depend less on Samsung Electronics and supply parts to other South Korean Smartphone manufacturers and Chinese ODM companies.
◊Why is Samsung Electronics starting to lean more towards ODM?
Samsung Electronics is starting to utilize ODM companies more for its low-end and medium-end Smartphones. 'Galaxy A6s', which was released in China last year, is the first product that was manufactured by a Chinese ODM company called Wingtech. A60 that was released this year was also manufactured by an ODM company.
It is heard that Huaqin from China has also been added as an ODM partner of Samsung Electronics. Smartphone industry estimates that these two ODM companies will manufacture between 30 million and 40 million Smartphones annually for Samsung Electronics.
According to IHS Market, it is estimated that percentage of Samsung Electronics Smartphones manufactured by ODM companies will increase from 3% in 2018 to 8% in 2019.
Unlike OEM (Original Equipment Manufacturer) method where a main contract does the design while a subcontract does the production, ODM method has a manufacturer entrust a subcontractor with designing and procurement of parts. Samsung Electronics just brands Smartphones manufactured by ODM companies. Through ODM method, Samsung Electronics can reduce development cost and personnel expense.
Samsung Electronics believes that ODM method is more effective than manufacturing Smartphones on its own so that it does not fall behind in a race for competitive price that includes Chinese Smartphone manufacturers such as Huawei, Xiaomi, and OPPO.
"We have decided to utilize ODM companies for products that are released in certain countries to operate internal resources and lineups more effectively and to actively meet requests from customers and markets." said a representative for Samsung Electronics.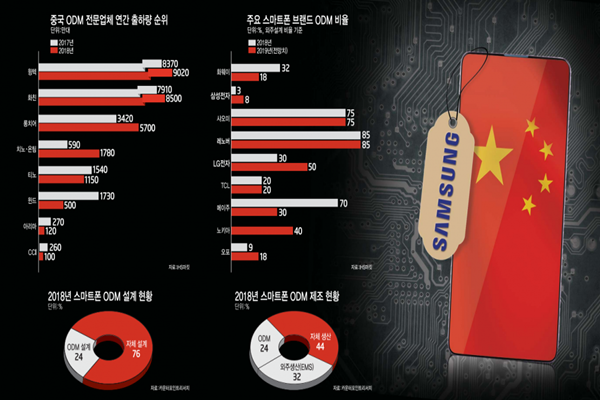 ◊South Korea's Smartphone parts industry concerned about losing its competitive edge
Although ODM can be advantageous for Samsung Electronics in terms of reducing manufacturing cost, it can have a negative impact on the ecosystem of South Korea's Smartphone industry as parts are obtained in China.
As LG Electronics moved its Smartphone production line in Pyeongtaek to Vietnam and resulted in its partners closing down related businesses or production lines, Samsung Electronics has been the last hope for South Korea's Smartphone parts industry. This is the reason why it has been very sensitive to a recent trend of Samsung Electronics utilizing ODM companies more.
More Chinese companies are infiltrating Samsung Electronics' supply network of parts for Galaxy Smartphones. O-Film supplies touch-screen panels, camera modules, and fingerprint recognition modules to Samsung Electronics while Sunny Optical recently became a camera module vendor after supplying camera lenses for Galaxy series. Sunway was also added as a vendor for wireless charging area.
"Samsung Electronics is utilizing ODM companies more when it asked us to increase the size of our production according to its increased investment." said a representative for a South Korean Smartphone parts manufacturer. "It is necessary for major corporations like Samsung Electronics to take care of small and medium companies like us."
South Korea's Smartphone parts industry now has to compete with China's Smartphone parts industry as Samsung Electronics is utilizing Chinese ODM companies more and increasing supply and demand of Chinese parts. South Korea's Smartphone parts manufacturers that have been depending on Samsung Electronics have started to diversify their customers recently. Some say that they need to secure Chinese ODM companies as their customers.
"Because Vietnam is looking to grow its Smartphone manufacturers, we are looking to target local brands." said a representative for a South Korean Smartphone parts manufacturer. "We are also dealing with Chinese ODM companies as well."
Some also say that South Korea's Smartphone parts industry needs to push for differentiated premium strategies as Samsung Electronics is currently utilizing ODM companies for economic Smartphones
"Major corporations are choosing Chinese parts to reduce unit cost as competitions are becoming more intense." said a representative for the Smartphone industry. "Although South Korean Smartphone parts manufacturers that supply parts to Samsung Electronics for its economic models will be heavily affected, manufacturers that focus on flagship models of Samsung Electronics will be less affected. Therefore, it is necessary for those that will be heavily affected to surround themselves with competitive edge that is different from others."
Staff Reporter Jung, Hyeonjung | iam@etnews.com