"We have excellent collaboration with Samsung Electronics regarding development of 3nm process." said CEO Aart de Geus of Synopsys regarding a question on the process of development of 3nm process with Samsung Electronics.
"We started working with Samsung Electronics three to four years ago and we still have high expectations on Samsung Electronics and we are still working together in many different ways." said CEO de Geus. "Our designs are applied in every aspect of 3nm process."
3nm process is a process that sets the wavelength of light, which is needed to manufacture semiconductors, at 3nm. It is a next-generation manufacturing technology that is more advanced than 7nm EUV (Extreme Ultraviolet) process that has been used for production starting from this year. It is able to print delicate circuit on a wafer while reducing the size of a semiconductor.
"Although it is up to Samsung Electronics on when it is going to apply 3nm process to production, we believe that it will take about two to three years according to Samsung Electronics' roadmap." said CEO de Geus.
Synopsys is currently ranked at the top of EDA (Electronic Design Automation) tool market that is absolutely needed to design semiconductor circuit.
Its design tool is also useful for designing memories that process and store information and processors that play a role of a brain for IT devices. Not just major semiconductor manufacturers such as Samsung Electronics and Intel, but system semiconductor design businesses such as NXP, Infineon, and Renesas also use Synopsys' products.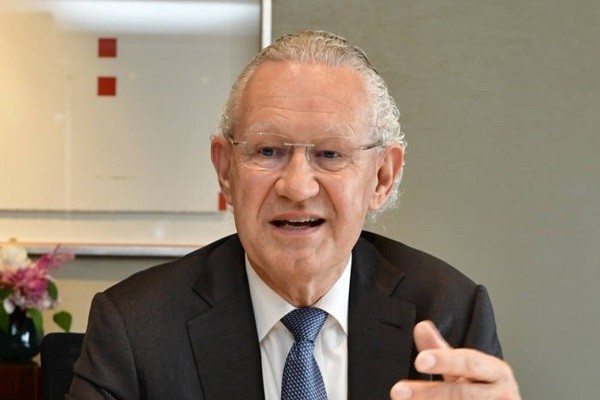 CEO de Geus was confident that 'Moore's Law' is still effective as semiconductor design process becomes more delicate. Some states that the chip size has become so small that Moore's Law, which indicates that the number of transistors in an integrated circuit doubles every two years, is not applied anymore.
"Maybe 'old Moore's Law' that makes transistors of a semiconductor more inexpensive is dead." said CEO de Geus. "However, Moore's Law in terms of memory data processing ability is still alive."
CEO de Geus stated that AI will establish itself as a new trend within semiconductor industry. "Because AI can be applied to many areas, even small fabless companies can also come up with new ideas."
Synopsys has been providing 'Synopsys Cloud' service for about a year for startup companies that have innovative ideas but have difficulties entering markets due to expensive cost of using design tool.
Synopsys Cloud service provides tools to many companies that are within Synopsys' cloud so that they can use necessary tools for certain design process. "Our goal is to provide optimal AI solution from aspects of IP (Intellectual Property) and design tool." said CEO de Geus.
CEO de Geus explained that AI semiconductor market has a vertical characteristic which means that a new market can be created by applying AI and technologies in electronic field.
"Just as Germany and China are strong in automotive electronic device AI and facial recognition and security fields respectively, South Korea can continue to develop AI semiconductors that can be applied home appliances." said CEO de Geus.
"Because every IT product starts to have smart functions and silicon, South Korean Government's decision to promote system semiconductor industry is very smart." said CEO de Geus regarding South Korean Government's plan to promote system semiconductor industry announced in April.
Staff Reporter Kang, Hyeryung | kang@etnews.com