It has been 100 days since South Korea became the first country to commercialize 5G network.
5G service has begun to be stabilized. However, there are still many tasks such as 5G device, 5G service fee, 5G service, 5G contents, B2B (Business to Business), and 5G ecosystem that need to be resolved.
South Korean mobile network providers have begun to improve quality of their 5G services by adding base stations and look for 5G specialized services and B2B services on full-scale. South Korean Government has implemented 5G+ strategy to make world's first 5G network as the world's best 5G network.
◊South Korea commercializes world's first 5G network and ecosystem
South Korea, which barely beat out the U.S. and became the first country to commercialize 5G network, started establishing its 5G ecosystem.
South Korean Government announced '5G+' strategy centered on Ministry of Science and ICT (MSIT) on the 8th of April, which is right after it commercialized 5G network, and made formation of 5G ecosystem official. It held first committee meeting for 5G+ strategy on the 19th of June to effectively support 5G+ strategy and put out its plan to carry out 5G+ strategy. While 5G+ strategy presents the direction for 5G ecosystem, plan for carrying out 5G+ strategy includes detailed plans to apply 5G to daily life and industries. South Korean Government's plan is to own 15% of global 5G markets by finding ten important industries and five important services as 5G-related industries and making an annual output of $153 billion (180 trillion KRW) by 2026.
According to an American market research company called Dell'Oro, Samsung Electronics owned 37% of the shares of global 5G telecommunication equipment market during the fourth quarter of 2018 and the first quarter of 2019 and was ranked first. Although it was only for short duration, this is the first time Samsung Electronics was ranked first based on the shares of global telecommunication equipment markets. Although it only owned 5% of the market shares (based on IHS Market) in 2018, it succeeded in grabbing the upper hand of 5G market.
There are many businesses that are trying to learn knowhow from South Korean mobile network providers that commercialized world's first 5G network. It is not an exaggeration to say that South Korea is at the top when it comes to technology, infrastructure, service, and member even though about 20 mobile network providers from 11 countries commercialized 5G network.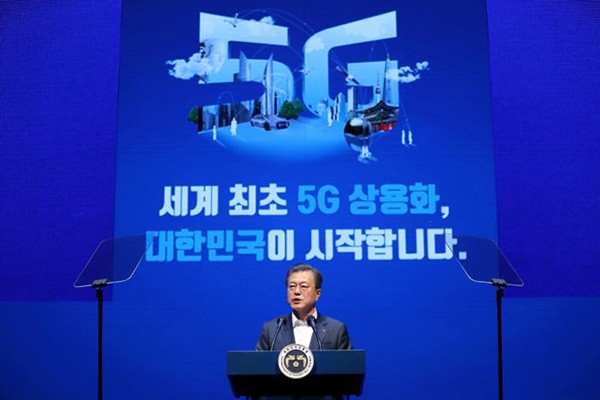 ◊Structure of competition within 5G market changes
Number of 5G network members is increasing faster than initial predictions as it surpassed one million on the 10th of June. Only 69 days were needed to have more than one million 5G network users. The number currently stands around 1.4 million people as of today. It will be no time that the number will surpass two million when mobile network providers thought that they would achieve this number at the end of this year.
There is also a change to competition within 5G market. It is likely that 5:3:2 ratio of market shares will start to change into 4:3:3 ratio as SK Telecom, KT, and LG Uplus owned 40.8%, 32%, and 27.2% of the market shares as of the end of May. Market concentration has somewhat eased compared to the past and it will be interesting to see whether this ratio will continue in the future.
There are also side-affects rising from fierce competition amongst mobile network providers. There are signs of illegal subsidies that started to disappear after Mobile Terminal Distribution Act was established. Citizens United for Consumer Sovereignty reported SK Telecom, KT, and LG Uplus to Korea Communications Commission for providing illegal subsidies. It pointed out that Galaxy S10 5G was sold with a discount of up to $773 (910,000 KRW).
Due to fierce competition, all three mobile network providers recorded one of their worst performances during the second quarter. According to stock firms, amount of their operating profits of the second quarter was $678 million (797.6 billion KRW) and it was 17% reduction compared to the amount from the second quarter of last year. Compared to the first quarter of this year, the amount is 13% lower. SK Telecom, KT, and LG Uplus are seeing -10%, -20%, and -21% of their operating profits respectively and it is expected that all three mobile network providers will not be able to avoid severe slump.
◊South Korean mobile network providers to strengthen their 5G services and contents
South Korean Government and mobile network providers decided to commercialize 5G network first and stabilize 5G services afterwards in order to commercialize world's first 5G network. Although their decision proved to be effective as South Korea commercialized world's first 5G network couple hours before the U.S. did, South Korea now has to face the reality of having unstable 5G services.
There have been controversies regarding 5G services ever since 5G network was commercialized. Issue with lack of 5G contents has not been solved yet either.
South Korean Government and three mobile network providers are planning to focus on expanding 5G services and contents during the second half of this year and expanding 5G network to B2B field. South Korean Government is going to establish a support system so that major 5G services such as real contents, smart factory, self-driving car, smart city, and healthcare can be commercialized. It is going to form an industrial ecosystem for testing and certification and equipment and also strengthen foundation for using 5G services by improving radio wave system and relevant regulations.
SK Telecom is going to select smart office, smart factory, smart plant, smart city, clothing, distribution, media, and public safety as eight key areas and pioneer 5G convergence market.
KT, which considers itself as the best network provider, decided to establish the most base stations in South Korea by end of this year to increase quality of its 5G network and to enhance video platforms. It believes that this is the best opportunity to change the dynamics of mobile network market that has been fixed for quite some time.
LG Uplus declared that it would lead 5G market through network, service, and marketing while setting a goal of owning 30% of the shares of 5G market in 2019.
Staff Reporter Kim, Yongjoo | kyj@etnews.com