Ksmartech, a South Korean business specializing in mobile security solutions, became the first South Korean business to commercialize Digital Key and it is expected to target domestic and foreign smart car markets.
Ksmartech (CEO Ko In-ok and Jung Soon-ho) stated that it is planning to make 'digital key' option, which is included into latest Sonata model, available throughout automotive markets in South Korea.
Since Ksmartech was established in 2010, it has grown its business based on its successful research in NFC (Near Field Communication) and wireless security and certification fields. It made a partnership with Trustonic, a British business that has 'TEE (Trusted Execution Environment)' technology certified by ISO (International Organization for Standardization) and it has continued to grow its business by establishing 'TEE-based security solution'. It provided 2-channel 2-factor mobile security certification solution called 'Tee-sign safe storage service' to financial industries.
It recently developed automotive TEE IoT (Internet of Things) security solution called 'Digital Key' by utilizing IoT technology that can implement personal verification and object verification at the same time and it has expanded its business to smart car industry. It had worked with Hyundai Motor Company to develop a Smartphone application and it succeeded in applying 'Digital Key' option to Sonata during the second quarter of 2018. Hyundai Motor Company introduced its latest Sonata equipped with 'Digital Key' option during '2019 New York International Auto Show' that was held last month.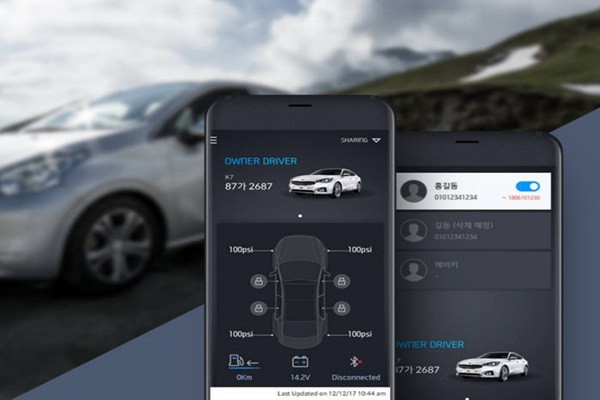 Digital Key allows one to use his or her Smartphone to control various functions of a car instead of the corresponding smart key. This key can be shared by four people at the most per car. Unlike server-based solutions that cannot be used without automotive telecommunication or Smartphone telecommunication, Digital Key can be used even when telecommunication is not available. One can retrieve Digital Key right away by informing a call center when he or she loses his or her Smartphone.
A user can select either hardware-based 'TEE certification' technology or software-based 'WBC (White Box Cryptography' certification technology or use them together depending on mobile environment or application range of the device that he or she is using.
"TEE is a security area physically separated within AP (Application Programming. Only applications that are pre-approved can approach TEE area within Android OS (Operating System) through an exclusive API (Application Programming Interface)." said Co-CEO Jung Soon-ho of Ksmartech. "WBC protects reverse engineering from hackers by mixing information of an encrypted key with an encrypted algorithm." He also added that management of storing important data is also carried out within a 'trust zone' and that it protects data from hackers from the start.
Ksmartech is planning to expand its Digital Key service throughout automotive markets in South Korea for few years and target foreign markets by speeding up the process of establishing its branch in the U.S.
"Our Digital Key service can also be applied to many areas that connect person to person, object to object, and person to object." said CEO Jung. "By expanding our business towards entry management system of hotels and buildings, we are going to launch ourselves as a global mobile security and certification business."
Staff Reporter Lee, Joonhee | jhlee@etnews.com