South Korean Government is planning to consider every measure including filing a lawsuit to WTO (World Trade Organization) to react to Japanese Government's regulation on exportation of major semiconductor and display materials.
"Not only is Japanese Government's limited exportation measure prohibited in principle based on WTO's agreement, but it also contradicts agreement made during a G20 summit that was held last week." said Minister Sung Yoon-mo of Ministry of Trade, Industry and Energy during an inspection meeting for exportation status on the 1st. "We are going to take necessary measures in accordance with international and domestic laws."
South Korean Government is taking this measure when Japanese Government stated that it would regulate exportation of three major materials that could hinder production of semiconductors and displays.
"Japanese Government's announcement on regulating exportation of our products is an economic retaliation stemming from a decision made by our Supreme Court and it is regretful to believe that it is not in accordance with common sense." said Minister Sung. "We are going to make necessary preparation to minimize any negative impact by communicating closely with relevant industries and we are going to make this an opportunity to further improve competitiveness of our industries."
Ministry of Economy, Trade and Industry (METI) of Japanese Government stated that it would exclude exportation of fluorine polyimide, photoresist, and hydrogen fluoride and transfer of manufacturing technologies from its list of general license system and that they would require an approval individually.
Photoresist and hydrogen fluoride are major materials that are used in semiconductor manufacturing process. Fluorine polyimide is used for displays such as OLED and LCD. Japanese businesses are currently responsible for 90% and 70% of global outputs of fluorine polyimide and photoresist and hydrogen fluoride respectively.
While Japanese Government had given special treatment to these materials in the past, it is planning to screen exportation of these materials whenever they are being exported to South Korea. It is heard that application and approval process for exportation of these materials is going to take about 90 days.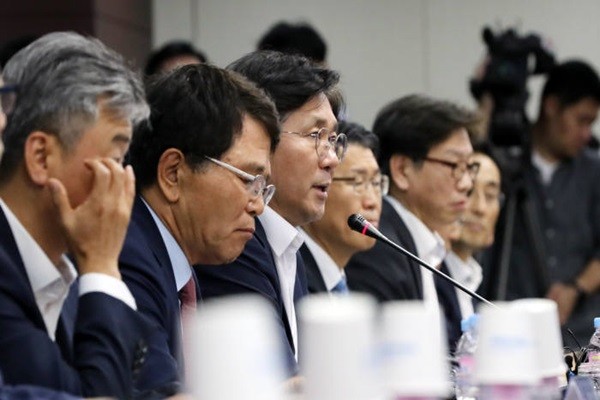 METI also added that it would start gathering opinions to exclude South Korea as a 'white country' based on its foreign trade act.
A white country is recognized as a security-friendly nation and it simplifies exportation procedure of state-of-the-art materials and relevant procedures. However, a non-white country needs to go through an approval procedure by Japanese Government's authorities. Japanese Government is planning to enforce this measure sometime in August. It selected 27 countries such as the U.S. and England as white countries and it designated South Korea as a white country in 2004.
Once Japanese Government limits exportation of these three materials, it is likely that relevant industries in South Korea will take a huge blow. Because photoresist and hydrogen fluoride are necessary materials for manufacturing of semiconductors, Samsung Electronics and SK Hynix can see negative impact on their performance right away. Because most of photoresists are imported and there is not much substitution for it, there can be a setback with production right away. Fluorine polyimide is also used widely for manufacturing of displays and it can have negative impact on Samsung Display and LG Display once its exportation is limited.
Japanese Government explained that its newest measure is established due to broken relationship between South Korea and Japan. However, its measure is seen as an economic retaliation towards an issue on forced labor under Japanese imperialism.
It is likely that Japanese Government is targeting semiconductor and display industries to increase level of its retaliation while pressuring South Korean Government at the same time. Semiconductor industry is one of South Korea's major industries that is responsible for 20% of entire exports.
Because this measure contradicts 'free, fair, and indiscriminative trade principles' advocated by Japanese Government, there is a high chance that it will be criticized by international societies. This is an important issue as Samsung Electronics and SK Hynix are responsible for more than 70% and 40% of shares of DRAM market and NAND flash market respectively and they can greatly impact global IT industries if there is any setback to their production. Not only can this impact Japanese businesses, but it can also impact American and Chinese economies as well.
"Some are concerned that Japanese businesses may be affected as well from this measure." said Japanese media while predicting that relationship between South Korea and Japan will worsen due to this measure.
South Korean Government is also working on preparing emergency measures. Minister Hong Nam-ki of Ministry of Economy and Finance held a private meeting with other ministers somewhere in Seoul at 7:30 A.M. and discussed about various ways to deal with Japanese Government's regulation on exportation.
Staff Reporter Yun, Geonil | benyun@etnews.com & Staff Reporter Lee, Kyungmin | kmlee@etnews.com