Samsung Electronics was initially planning to sell its first foldable Smartphone 'Galaxy Fold' at the end of April starting with the U.S. However, there were issues that were raised regarding the quality of Galaxy Fold during a review process that took place before its release for advertisement purpose. It was confirmed that the protective film that can be easily detached caused damage to the screen and that debris that is accumulated in gaps led to defective hinge. As a result, Samsung Electronics immediately postponed the release date of Galaxy Fold and it has yet to announce the official release date ever since. However, industries believe that there is a high chance that Galaxy Fold will be on markets shortly. It is expected that South Korea's foldable Smartphone ecosystem will become more active as Samsung Electronics is already preparing for the next model that focuses on portability.
"It is likely that Galaxy Fold will be released sometime during the next month." said Director Lee Jae-hyeok of DSCC during 'The Electronic Times' Second Tech Week' that was held recently. Director Lee stated that Samsung Electronics had been working on quality issues that were raised.
Protective film is a part that had a major impact on the release date of Galaxy Fold. Because it looked like a film that needed to be detached, some reviewees detached the film which damaged Galaxy Fold's display. Unlike normal protective film, this film is part of a display. It is located at the top of a display and it protects a screen from outer impact.
Initially, Samsung Electronics was only planning to use transparent polyimide (PI) film. Transparent PI film, which is a type of super-engineering plastic, had gathered expectations as the material for the cover window of a foldable Smartphone due to its resistivity towards heat and impact and flexibility.
However, Samsung Electronics decided to use another film thinking that it would be difficult to protect a screen with a transparent PI film alone. It is heard that Samsung Electronics made such decision at the end of last year or early this year. However, this film eventually led to postponement of release of Galaxy Fold.
It is heard that Samsung Electronics decided to place this protective film at the inner part of the device.
"After there was a controversy surrounding this film, Samsung Electronics decided to place this film at the inner part of the device to fix the issue." said Director Lee. Samsung Electronics placed the film inside of the device so that it cannot be detached by Galaxy Fold users.
It is heard that Samsung Electronics also fixed the issue where debris is accumulated near the hinge. It partially changed the design so that there are no more gaps forming near the hinge.
Samsung Electronics' representative also recently mentioned the possibility of release of Galaxy Fold soon.
"We solved most of the issues that were brought up with Galaxy Fold." said Vice-President Kim Sung-cheol of Samsung Display during his speech at a commemoration ceremony for the 20th anniversary of Korea Information Display Society. "We are making necessary preparations according to the plan for mass-production of Galaxy Fold."
Samsung Display manufacturers and supplies displays for Galaxy Fold. Because Vice-President Kim is a high-ranking representative of Samsung Display, his recent comment can be seen as a signal to imminent release of Galaxy Fold.
Actually, it is confirmed that Samsung Electronics notified Samsung Display on the 18th regarding its schedule for re-release of Galaxy Fold.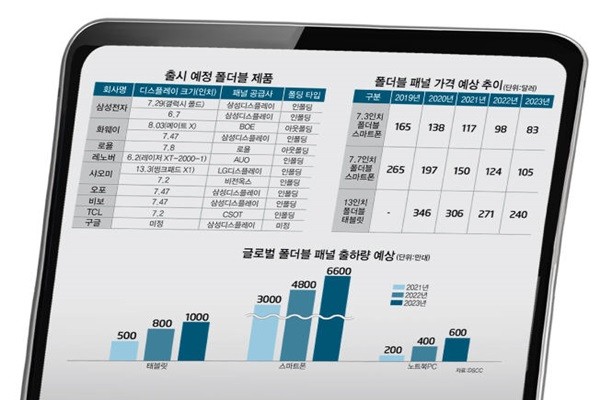 ◊Preparation for expansion of foldable Smartphone ecosystem
Although there were different variables regarding Samsung Electronics' initial plan due to delay of its first foldable Smartphone, Samsung Electronics is still carrying out its foldable Smartphone business without any change.
Samsung Electronics is currently preparing a foldable Smartphone with a 6.7-inch screen that folds up and down rather than side to side as the next model of Galaxy Fold. Unlike Galaxy Fold that looks like a tablet, the next model focuses on portability and it is expected to be different in style from that of Galaxy Fold.
This indicates that Samsung Electronics is going to expand the lineup of its foldable Smartphones. Samsung Electronics has been stating that it will continue to release foldable Smartphones due to special values that are only brought by foldable Smartphones.
It will be interesting to see whether Samsung Electronics' long-term plan and its roadmap for foldable Smartphones will form a foldable Smartphone ecosystem in South Korea. Chinese Smartphone manufacturers are also preparing to jump into foldable Smartphone market shortly.
Huawei, which is China's biggest Smartphone manufacturer, recently announced 'Mate X'. It is heard that Xiaomi is also developing its foldable Smartphone. Xiaomi is speeding up the development process of its foldable Smartphone based on its fast and young organizational culture.
Samsung Display is looking to diversify its customers. It also decided to supply foldable OLED panels to many Chinese Smartphone manufacturers. Although its edge display had limited customers in the past aside from Samsung Electronics, it seems that its foldable display has relatively quickly secured many customers.
Taiwanese and Chinese display manufacturers are also looking to enter foldable display market. Aside from Samsung Display, BOE, AUO, VisionOx, and CSOT are also developing foldable displays.
While BOE is preparing to supply panels to Huawei for Mate X, VisionOx is preparing to supply its panels to Xiaomi. LENOVO joined hands with LG Display to develop 13.3-inch laptop that is expected to be released next year. It is also working with AUO from Taiwan regarding its foldable Smartphone business. It is heard that LENOVO, which acquired Motorola's Smartphone business, is preparing a foldable version of 'Razr' that was Motorola's popular product in the past.
Staff Reporter Yun, Geonil | benyun@etnews.com & Staff Reporter Bae, Okjin | withok@etnews.com