As KCFT, which is a copper foil manufacturer, was recently acquired by SKC, LG Chem is expecting few changes to its supply chain for battery-related materials. KCFT has been LG Chem's partner that has supplied copper foil.
SKC signed a contract on the 13th to purchase 100% shares of KCFT for $1.01 billion (1.2 trillion KRW). Copper foil is used as the current collector of a cathode of a secondary battery. SKC acquired KCFT to create synergy with SK Innovation that is promoting secondary battery business.
However, this acquisition has created a strange dynamic relationship as KCFT, which has been a long-time partner of LG Chem, was acquired by LG Chem's competitor.
KCFT was spun off from LS Mtron's copper foil and thin film business. KCFT was created when LS Group sold its business to a private equity fund to improve its financial structure. LS Mtron's copper foil business, in other words KCFT's copper foil business has had a deep relationship with LG Chem.
According to industries, LG Chem has been KCFT's biggest customer. It is also heard that LG Chem received the most supply of copper foils from KCFT.
However, it is inevitable that there will be a change to this relationship. As KCFT has become a member of SK Group, it will be difficult for KCFT to maintain its relationship with LG Chem. LG Chem is concerned that its secret information may be leaked through KCFT and that its continuous purchase from KCFT will only strengthen SK's competitiveness in battery business.
Furthermore, LG Chem and SK Innovation are in a deeper conflict due to a lawsuit between them regarding technology leakage.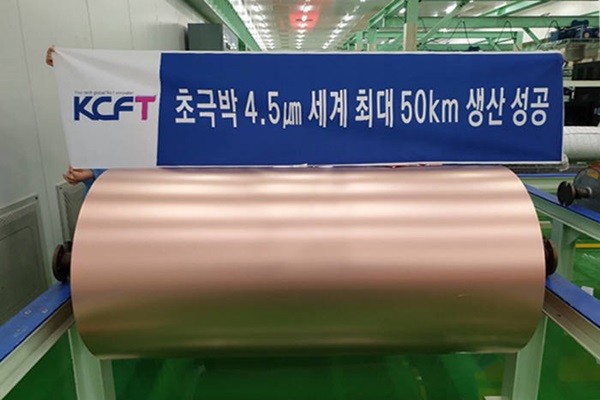 However, it is difficult to LG Chem to end its relationship with KCFT immediately. This is because it is very complicated to manufacturer copper foil and it is also heard that there are only limited businesses in the world that manufacture copper foil.
"KCFT and Iljin Materials from South Korea, Taiwan's Chang Chun Group, and few Chinese businesses are the only ones that currently supply copper foil for battery." said a representative for a battery material manufacturer.
KCFT and Iljin Materials also hold upper hands in copper foil market for electric vehicle battery that requires high-quality copper foil.
There is a high chance that LG Chem will expand its current relationship with Iljin Materials if it has to adjust its supply chain in the future.
However, Iljin Materials has a close relationship with Samsung SDI and it has limited capacity as well. It will be interesting to see whether Iljin Materials, which is actively expanding its plants by constructing buildings in Malaysia recently, will expand its relationship with LG Chem.
"KCFT is also in a situation where it has to consider different circumstances as it was acquired by SKC." said a representative for the industry. "Although LG Chem and KCFT will carry out their business as usual for a while, it will be inevitable for them to go through changes in the near future."
Staff Reporter Yun, Geonil | benyun@etnews.com & Staff Reporter Jung, Hyunjung | iam@etnews.com