SK Innovation is going to supply electric vehicle batteries that will allow electric vehicles to drive up to 600km with single charge starting from early 2020 on full-scale. It is going to take the lead in development of high-energy density battery and push for a roadmap for relevant technology so that there will not be any issue with mileage within electric vehicle market after 2022.
President Yoon Yae-seon of SK Innovation's Battery Business was a keynote speaker for the third day of 'The Electronic Times' Second Tech Week', which started on the 14th at POSCO P&S Tower, and introduced a roadmap for SK Innovation's technology on electric vehicle battery.
"While the battery that we supplied to Kia Motors' 'Ray', which is South Korea's first electric vehicle, in 2022 had a mileage between 100 and 150km with single charge, battery that we are going to supply to our customers starting from early next year has a mileage of 600km." said President Yoon. "We are going to finish development of NCM 9½½ (battery that uses an anodic material that has nickel, cobalt, and manganese ratio of 90%:5%:5%) by end of this year and apply it to electric vehicles in 2022." He also emphasized that issue on electric vehicle's mileage with single charge will not be discussed anymore after 2022 when there will be electric vehicles with NCM 9½½ batteries on full-scale.
SK Innovation is a business that leads technology on high-energy density battery. It has especially le development of high-nickel anodic material-based battery with high nickel content. As there is more nickel content within anodic material of a battery, output and energy density become higher leading to better mileage of electric vehicle. SK Innovation mass-produced world's first NCM 622 batteries in 2012 and it mass-produced and applied world's first NCM 811 batteries last year.
It also internalizes technology on separation film that has huge impact on battery safety. "Although we are currently ranked second within separation film market based on supplies, we are ranked at the top based on quality." said President Yoon.
It is currently busy with development of cathodic material with high silicon content. Cathodic material is one of four important materials of a lithium-ion battery along with anodic material and separation film. Although silicon can improve energy density, it can cause defective batteries as amount of expansion and contraction becomes larger when a battery is being charged or discharged.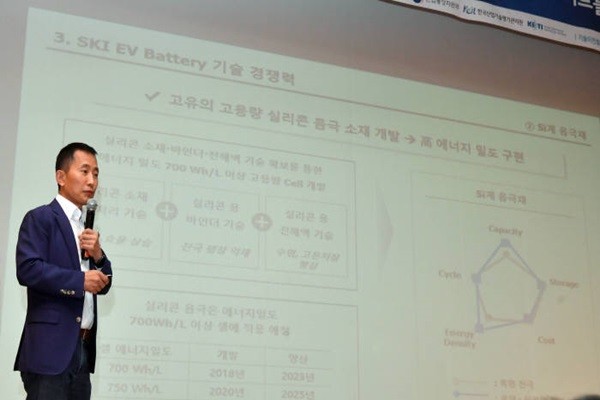 "Although we had not used silicon almost at all until NCM 811 battery to minimize danger, we have to increase silicon content within a cathodic material in order to have energy density higher than 700Wh/L." said President Yoon. "We have almost solved expansion issue by applying coating technology and new materials."
Currently, it has 430GWh remaining from its contracts. This amount is equivalent to more than $42.1 billion (50 trillion KRW) when converted. In just few months, remaining of contracts increased by more than 100GWh when it was 324GWh at the end of last year. To supply remaining of contracts, it is constructing plants all over the world including Europe, China, and U.S.
"Remaining of our contracts will be around 700GWh by 2023." said President Yoon. "This amount is seven times the amount of annual generation in South Korea." He explained that SK Innovation needs plants that can produce 100GWh worth of batteries annually to supply remaining of contracts and that SK Innovation will need about $8.43 billion (10 trillion KRW) to construct necessary plants. SK Innovation's goal is to secure annual production capacity of 100GWh by 2025.
KCFT, which is a battery copper foil manufacturer that is set to be acquired by SKC for $1.01 billion (1.2 trillion KRW), caught people's eyes for participating in this event. Battery copper foil is used as a current collector for a cathode of a secondary battery and it is an important material for making a battery lighter and with larger capacity as it can fill more active cathodic materials as it becomes thinner. KCFT is the world's largest battery copper foil supper in the world.
"We started mass-producing ultra-thin 5µm battery copper foils on full-scale starting from this year and we recently succeeded in producing 4.5µm copper foil into 50km mother roll that is the world's longest length." said CTO Jeon Sang-hyun of KCFT. "While providing values to our customers through ultra-thin copper foils that are less than 4µm in length within battery copper foil market that is growing rapidly, we are looking to make $843 million (1 trillion KRW) in annual sales by 2023."
Staff Reporter Jung, Hyunjung | iam@etnews.com