There is a higher chance of Samsung Electronics launching its foldable Smartphone 'Galaxy Fold' soon as it is heard that it fixed issues that were brought up. On the other hand, it has become unclear on when Huawei, which was preparing to compete with Samsung Electronics within foldable Smartphone market, is going to launch its foldable Smartphone due to the trade conflict between the U.S. and China.
Director Lee Jae-hyuk of DSCC, who made a presentation under a topic called 'Foldable, Future Display' at The Electronic Times Second Tech Week that was held at POSCO P&S Tower on the 13th, predicted that Samsung Electronics will show 'Galaxy Fold' to the public soon.
Director Lee stated that Samsung Electronics fixed protective film and hinge issues that were brought up as his reason for making such prediction.
This protective film, which is also called 'changeable window', is a part that had the most impact on Samsung Electronics delaying release date of Galaxy Fold. It was detached during a product review process as it looks like a normal protective film and it damaged display. This film is placed on top of clear PI (Polyimide) that plays a role of a cover window for flexible display.
Although Samsung Electronics initially decided to only use clear PI to protect OLED panel, it decided to place another film because it believed that it would be difficult to protect a screen with just clear PI. This film is called 'changeable' window as it is designed so that it comes with A/S.
It is heard that Samsung Electronics decided to place this film inside of Galaxy Fold when this film was creating an issue.
"Samsung Electronics decided to prevent defect by placing this film inside of Galaxy Fold." said Director Lee.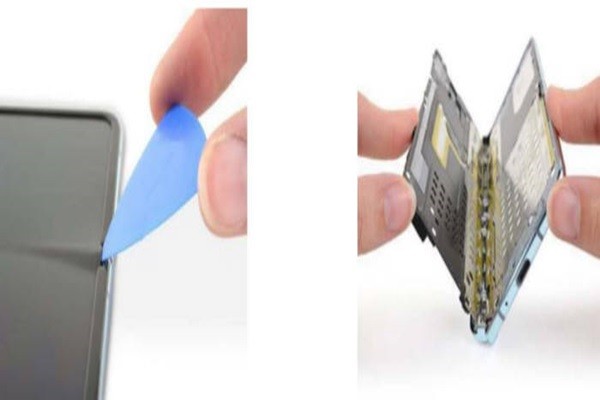 It is heard that Samsung Electronics also fixed an issue where dust accumulates near hinge. Hinge is where a device is folded. Because it helps pressure that is caused when a screen is folded to spread evenly, it is a very important part for foldable display.
However, some pointed out that a 7mm gap is created at the bottom of the hinge of Galaxy Fold causing dust to accumulate and lowering Galaxy Fold's performance.
"It seems that Samsung Electronics fixed this issue by placing a new film between the display and the hinge." said Director Lee. "This method is different from how Royole placed ten nails to remove this gap of its foldable Smartphone called FlexPai."
Director Lee predicted that new Galaxy Fold will be available to the public sometime during next month.
On the other hand, Huawei gave a forewarning to fierce competition with Samsung Electronics within foldable Smartphone market by launching its foldable Smartphone 'Mate X' at a similar time as 'Galaxy Fold', it is heard that Huawei is planning to delay the release date due to the trade conflict between the U.S. and China. However, it is heard that Huawei is facing a supply issue of OCA (Optical Clear Adhesive) that plays a role of an adhesive for foldable display.
"It is heard that Huawei asked BOE, which supplies displays to BOE, to change the supplier of OCA from 3M to a different manufacturer due to the trade conflict." said Director Lee. "This is also a difficult issue for 3M as well." Director Lee also added that Huawei is looking into postponing the release date of Mate X that was expected to be released during the second half of this year initially.
Director Lee explained that new polarizing plate, cover glass and cover film, OCA, and touch drive IC are needed to develop foldable Smartphone.
"Foldable Smartphone requires a display that is three times thinner than current OLED displays, rigidity that can withstand 200,000 times of fold and unfold in a span of three years, and software that can implement a new application." said Director Lee. "It seems that one will be able to purchase a foldable Smartphone at $1,000 within the next three years as price of a foldable display continues to drop." He also explained that there will be one million and six million foldable Smartphones in this year and next year respectively.
Staff Reporter Kang, Haeryung | kang@etnews.com