Samsung Electronics is trying to create momentum in launching mobile SoC (System on Chip) that is comprised of a modem that supports mobile network and an AP (Application Processor). Its plan is to grab the upper hand of 5G chip market by implementing a 5G semiconductor, which has a modem and an AP separated, into single chip. Although Qualcomm and MediaTek stated that they succeeded in development of '5G one-chip', they are expected to commercialize it after 2020. Samsung Electronics is gaining interests as it is trying to become the first one in the industry to commercialize 5G one-chip.
"After commercializing 5G modem chipset in last August, Samsung Electronics launched world's first 5G Smartphone in April." said Executive Director Heo Guk of Samsung Electronics System LSI Business Department during a keynote speech at 'The Electronic Times' Second Tech Week' that was held at POSCO P&S Tower on the 12th. "We are planning to launch 5G mobile SoC shortly."
SoC indicates a semiconductor that combines a CPU, a GPU, and a modem into single chip.
5G Smartphones that are currently on the market have modems and APs separated. Modem is a semiconductor that is responsible for network while an AP is a semiconductor that is responsible for calculation and processing. Because 5G network is a relatively new technology, 5G modem and 5G AP were developed separately.
Samsung Electronics' goal is to develop and commercialize 5G mobile SoC as soon as possible. 5G one-chip makes easier to manufacture 5G Smartphones and it can also simplify designing and manufacturing process of 5G Smartphones.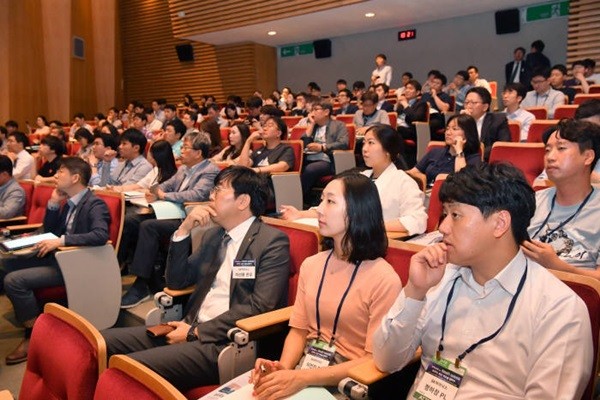 Samsung Electronics' ultimate goal is to grab the upper hand of 5G market. Only Samsung Electronics, Qualcomm, Huawei, and MediaTek currently have 5G solutions such as 5G modem and 5G AP. Although Intel was pushing to develop 5G modem, it decided to withdraw from this business after concluding that it lacks competitiveness in this market. Also, Qualcomm and MediaTek are the only ones that announced that they developed 5G one-chip. Qualcomm and MediaTek announced development of 5G one-chip during MWC (Mobile World Congress) that was held in last February and in May respectively. However, competition for 5G mobile chip market is basically between Qualcomm and Samsung Electronics because MediaTek has been supplying semiconductors for low-end and medium-end Smartphones. Because there is still an opportunity for Samsung Electronics to grab the upper hand of this market, it is working to strengthen its competitive edge in relevant technologies as soon as possible.
Actually, one is able to see that Samsung Electronics is planning to launch 5G one-chip before Qualcomm. While Qualcomm is planning to commercialize 5G one-chip in 2020, Samsung Electronics is planning to commercialize it before Qualcomm.
It is not known where Samsung Electronics' 5G one-chips will be used yet. However, it is expected that they will be used for Samsung Electronics' strategic Smartphones and flagship models. It is also expected that they will be supplied to other Smartphone manufacturers in the U.S. and China.
Samsung Electronics' plan for 5G one-chip coincides with its plan to promote system semiconductor business. It declared to become the world's top system semiconductor business by 2030. While SoC, image sensor, and foundry are all included in system semiconductor field, it is likely that SoC will be Samsung Electronics' major product for its system semiconductor business. It is expected that it will begin to compete with Qualcomm on full-scale.
The Electronic Times Tech Week, which is held for the second time followed by last year, will hold sessions for display and battery and electronic parts on the 13th and the 14th respectively.
Staff Reporter Yun, Geonil | benyun@etnews.com