May 20th marks the first year since former Chairman Koo Bon-moo of LG Group passed away. While LG could had been troubled due to sudden passing of former Chairman Koo, it found stability early through chairman Koo Kwang-mo. Chairman Koo, who has become the leader of LG Group that is currently ranked fourth in financial industries when he was in his 40s, has provided new changes to LG through new leadership. LG is focusing on finding driving forces for the future and is facing new changes and innovations.
◊Establishment of Chairman Koo Kwang-mo's system
LG handled troubling settings within LG Group after former Chairman Koo Bon-moo passed away early. Chairman Koo Kwang-mo has become the leader of LG Group and he had worked on stabilizing LG Group along with vice-chairmen. Chairman Koo Kwang-mo became a member of board of directors at a general meeting of shareholders that was held on the 29th of June of 2018 and became the chairman of LG Group at a board of directors. This decision was shocking to financial industry.
"We are going to continue to work on creating values of customers, respecting people, and carrying out righteous management, improve areas that need changes, and establish foundation for long-term growth." said Chairman Koo after he was appointed as the chairman of LG Group.
After a month passed away from an appointment, LG Group carried out an one-point personnel change that changed positions of Vice-Chairman Kwon Young-soo of LG Uplus with Vice-Chairman Ha Hyeon-hee of LG Group. Afterwards, Vice-Chairman Kwon Young-soo of LG Group had provided support to establish new management system.
Chairman Koo is also making the process of inheriting stakes transparent. He announced that it would pay inheritance tax worth $771 million (921.5 billion KRW) without any expedient. This amount is the largest amount ever in South Korean history. Chairman Koo showed his intention to carry out inheritance procedure according to LG Group's management principles.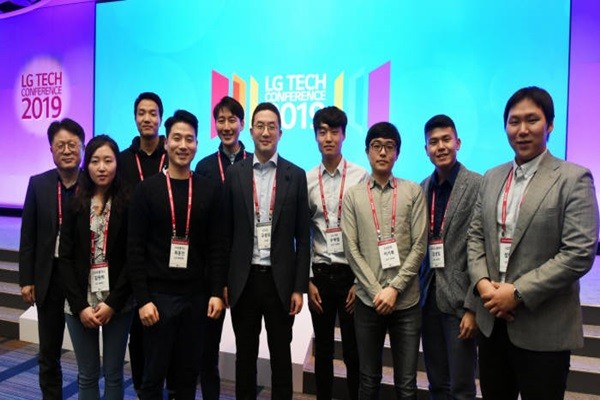 ◊Chairman Koo shows new leadership
Chairman Koo Kwang-mo is showing different kind of leadership than before. He limited outside activities since he was appointed and he had focused on polishing his management internally. After he finished his preparations, he is working on going through more foreign activities this year and is showing new leadership as a result.
Main keyword for Chairman Koo is pragmatism and not focusing on formalities. Internally, he is asking his executives and employees to call him CEO Koo rather than Chairman Koo. Reason why he is doing that is because the term 'CEO' focuses on duty rather than position.
Chairman Koo is also changing how employees work within LG Group. He is preferring to have discussions rather than hearing from a high-ranking executive. It is heard that Chairman Koo is having free discussions with executives and young employees and that he is visiting various business places as he focuses on MBWA (Management by Walking Around) and having discussions with resarchers.
He is also changing management strategies. He is actively hiring talented individuals from outside and bringing in outside technologies through investments and M&A.
◊LG Group looking to find driving forces for the future
Focus of LG Group's changes is finding driving forces for the future. Investments into startups and M&A are ultimately part of its effort to secure new technologies in advance.
It is focusing on AI, automotive electronic parts, robot, 5G, and OLED as its future businesses and is actively investing into them.
It is making more global investments to find and secure new technologies. It is actively investing into American startups through its venture capital called 'LG Technology Ventures'. LG Technology Ventures was established in Silicon Valley by LG Electronics, LG Display, LG Chem, LG Uplus, and LG CNS last year to operate $425 million fund. It focuses on monitoring development of technologies by global startups and securing new technologies. Until now, it has invested into promising startups in different fields such as self-driving, AI, robot, VR and AR, bio-materials, and next-generation display.
"Chairman Koo Kwang-mo was recently given designation as the head of LG Group by Fair Trade Commission and is going through every procedure for succeeding LG Group's management smoothly." said a representative for the financial industry. "He has started to apply his philosophies on management to LG Group's management and it is expected that speed of changes within LG Group will be much faster in the future."
Staff Reporter Kwon, Keonho | wingh1@etnews.com