TmaxData became the first business to apply commercial DBMS (Database Management System) to ARM server.
TmaxData announced that it would supply its Tibero DBMS to Huawei for its ARM server called 'TaiShan'. Huawei developed a semiconductor chip called 'Kunpeng 920', which is used for datacenters, along with a British semiconductor design business ARM in this past January.
Huawei decided to use Tibero for its TaiShan server equipped with Kunpeng 920. Through this contract, Tmax proved its competitive edge in global DBMS market. ARM server is seen as the next-generation server for x86 server. Tmax has joined hands with Huawei, which has high market shares in China, and has provided itself a groundwork that will come in handy for overseas expansion.
Tibero can also be applied to ARM CPU-based servers in addition to Huawei's TaiShan server. It shows potential growth in server market as Tmax looks to expand its partnership with ARM and others. It will be interesting to see whether Tibero can become a substitute to Oracle DBMS in foreign markets.
Tmax has secured about 2,100 references in various fields after launching Tibero in 2003. It beat out Oracle in April of 2015 and supplied Tibero to Malaysia's Ministry of Labor. In November of same year, it entered European market for the first time by obtaining a contract from a Russian national payment card system company called NSPK.
It expanded its foreign market centered on the U.S. and Japan in 2018 by supplying its product to Spain for its airline traffic control and telecommunication industry and to an American healthcare solution business.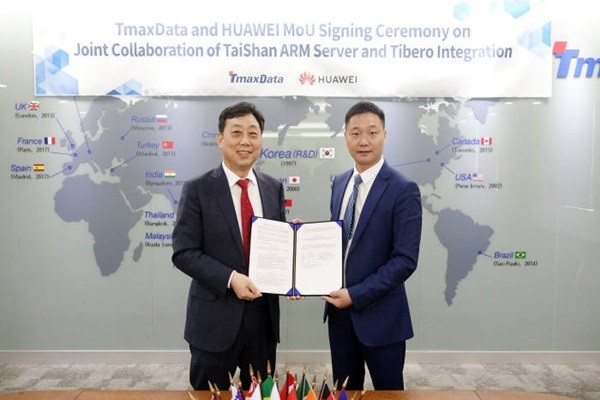 Tibero is also the world's second DBMS to implement shared disk-based database (DB) cluster technology that had been monopolized by Oracle. It provides TAC (Tibero Active Cluster) service and availability that increases performance and stability of database. It can be used for important tasks of a business.
Huawei is planning to create an intelligent computing ecosystem along with its partners such as Tmax. TmaxData introduced a joint solution of TaiShan server and Tibero DBMS at a Huawei conference that took place last month. Taishan server provides higher availability and utility and lower power consumption than other products.
Tibero DBMS provides about 30% better performance than other servers in identical conditions. TmaxData is going to create a Cloud zone that is comprised of Huawei's ARM servers within its Cloud Center during second half of this year. TmaxData and Huawei are going to continue to work together in the future regarding next-generation technologies such as Big Data and AI.
"Through our partnership with Huawei, we have secured a competitive edge in software market and a cornerstone for rapid development." said CEO Lee Hee-sang of TmaxData. "We are going to expand our foreign market towards South-East Asia and South America and work closely with Huawei so that we can meet current trend of vitalizing data use."
Staff Reporter Park, Jongjin | truth@etnews.com