NongHyup Financial Holdings opened South Korea's biggest FinTech hub called 'NH Digital Innovation Campus' and it has started promoting 33 promising startups.
It announced that it held an inauguration ceremony of 'NH Digital Innovation Campus' on the 8th with about 200 people such as Chairman Choi Jong-gu of Financial Services Commission (FSC) , Chairman Kim Kwang-soo of NongHyup Financial Holdings, President Lee Dae-hoon of NongHyup Bank, Chairman Kim Dae-yoon of Korea Fintech Industry Association, and Chief Director Jung Yoo-shin of Fintech Center Korea in attendance.
NH Digital Innovation Campus is the largest (2,080 m2) digital zone out of financial industries established by NongHyup Financial Holdings to become a global digital financial group and it is comprised of Digital R&D Center and NH Fintech Innovation Center.
Digital R&D Center is going to strengthen NongHyup Bank's unrivaled abilities in open APIs (Application Programming Interface) even more and develop innovative business models based on new technologies such as AI (Artificial Intelligence), blockchain, and Cloud.
NongHyup Financial Holdings is going to transfer NH Fintech Innovation Center established by NongHyup Bank and support and promote promising startups even more.
It selected promising startups through NongHyup's accelerating program called 'NH Digital Challenge+' and it is going to provide appropriate support based on level of growth of startups.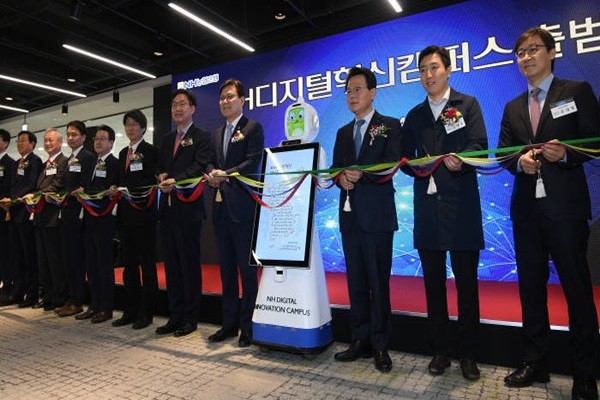 33 startups were first selected as part of the first group and they are going to receive actual financial support from $17.5 million (20 billion KRW) digital innovation fund that was set up in March.
NongHyup Financial Holdings is going to implement innovative digital services with 'NH Digital Innovation Campus' at the center and it is planning to maximize efficiency of internal process through automation.
Starting with NH Digital Innovation Campus, NongHyup Financial Holdings is planning to expand Smart Desk, Cloud, and AI-based Smart Office and agile group step by step to create innovative digitalized culture.
NongHyup Financial Holdings is going to apply a verification measure that can select talented individuals with digital minds and abilities to secure digital experts and is going to carry out expert level-like training to every new employee. It is planning to train more than 1,000 'data scientists', who are experts in analyzing Big Data, by 2020.
"NH Digital Innovation Campus will be at the center of financial ecosystem in the future and it will be our major driving force in digitalization." said Chairman Kim Kwang-soo of NongHyup Financial Holdings. "We are going to actively support startups that come into NH Digital Innovation Campus so that they become global unicorn businesses."
"Financial authorities are also going to take initiative in easing regulations to support financial industries and startups." said Chairman Choi Jong-gu of FSC during his congratulatory message. "We are going to push for operation of regulatory sandbox and innovative old regulations throughout the year."
Staff Reporter Gil, Jaeshik | osolgil@etnews.com