'Venture Special Act Enforcement Ordinance Revised Bill', which is based on excluding a cryptocurrency exchange as type of a venture company, will be enforced starting from next month at the earliest. Although Ministry of SMEs and Startups (MSS), which is the competent department, received opinions after pre-announcement of legislation, it is expected that this revised bill will be pushed forward as it is without huge change.
Significant oppositions are expected as revised bill is expected to be enforced soon while blockchain industries and relevant associations and groups submitted their requests that strongly oppose this bill.
MSS finished receiving opinions regarding revised enforcement ordinance of Venture Special Act on the 4th. Venture Special Act is expected to be enforced early next month immediately if it passes through Regulatory Reform Committee, deliberation from Ministry of Government Legislation, meeting of vice-ministers, and Cabinet Meeting sometime this month.
MSS pre-announced legislation of 'Venture Special Act Revised Bill' that does not include 'blockchain-based crypto-asset traders and brokerage companies' as part of venture companies. Relevant industries immediately made oppositions when a news that cryptocurrency exchanges are seen equal to bars, casinos, and clubs was reported through The Electronic Times.
As a result, MSS held a private meeting and collected opinions from major cryptocurrency exchanges, blockchain companies, relevant associations and groups, and universities. It is heard that significant number of opinions regarding this revised bill was also received through National Participation Legislation Center.
Relevant associations and groups opposed to this revised bill until the end of collection time for opinions.
Korea Blockchain Association adopted opposing written opinions and opposed MSS' stance.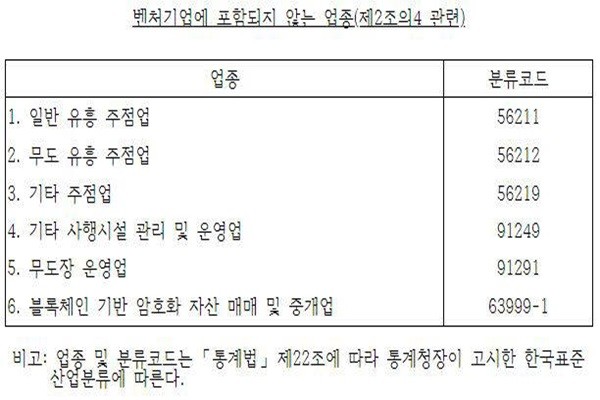 First, it opposed MSS' reasons for excluding cryptocurrency exchanges from a list of venture companies, which is illegal acts such as too much speculation, money laundering, and hacking, as unfair statutory instrument. It pointed out that fund-raising without permission indicates fund-raising act that takes place without accurate registration and report and that it does not correspond to cryptocurrency exchanges where fund-raising takes place at a legitimate public place.
It explained that illegal acts through off-board transactions are spreading as South Korean Government is pressing on cryptocurrency exchanges with strict regulations. It claims that cryptocurrency exchanges play important roles in developing industries, estimating values of assets, and promoting experts as their functions are becoming diverse.
It also raised its voice towards the fact that this revised bill does not reflect reality. Although MSS is constantly emphasizing that this bill is not enforced to regulate blockchain and cryptocurrency industries and ICO companies, it claims that MSS lacks understanding towards relevant technologies and industries. It asks MSS to enforce reasonable regulations and to withdraw unnecessary revisions.
Korea Blockchain Industry Promotion Association, Korea University's Cryptocurrency Research Center, Dongguk University's Blockchain Research Center, and Korean FinTech Association also submitted their statements and insisted MSS to withdraw this revised bill.
These associations and groups criticized this revised bill by saying that it totally contradicts South Korean Government's 'plans for promoting blockchain industry'. They also warned that such legislation will completely annihilate ecosystems related to blockchain.
Staff Reporter Park, Jungeun | jepark@etnews.com & Staff Reporter Gil, Jaeshik | osogil@etnews.com