KEB Hana Bank applied for trademark rights to 'Hana Ventures' and 'Hana Venture Investment'. It is heard that it is looking to expand its business towards digital industry, invest into FinTech industry, and even enter blockchain market.
It is expected that financial companies will actively expand their digital businesses this year. Along with strengthening their groups for digital businesses, they have set 'ABCD (Artificial Intelligence, Blockchain, Cloud, and Data)' as the topic of their managements for this year. They have set IT-based industries, which had been used as complementary goods, as industries that must be promoted.
According to financial and IT industries, KEB Hana Bank applied for Korean and English trademark rights to 'Hana Ventures' and 'Hana Venture Investment'.
Fact that KEB Hana Bank included cryptocurrency brokerage and exchange businesses has caught attention of many. It also included 14 new types of businesses such as cryptocurrency business, public capital investment management business, consultation business related to education funding, investment business for international companies, international fund investment business, financial product brokerage business, and financial investment planning business.
"We are currently preparing various businesses that are applied with FinTechs." said a representative for KEB Hana Bank. "However, we cannot discuss about details such as direction of business and formation of groups regarding Hana Ventures yet."
Some are predicting that this move signals official entrance by a large bank into digital industry. Chairman Kim Jung-tae of Hana Financial Group is working on promotion of digital industry himself.
Hana Financial Group is looking to select 'digital technologies' that will be benefit people through effective information and push for promoting experts and innovating channels by having every subsidiary centered on Hana Finance TI.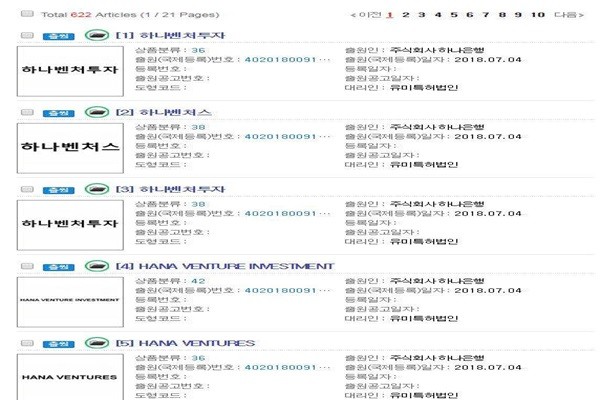 Chairman Kim announced his plan to nurture 1,000 IT experts in medium and long-term at a meeting for presidents of Hana Financial Group's subsidiaries. He has Hana Finance TI, which is an IT subsidiary with low say, attend major meetings and is giving strength and budget to IT-related subsidiaries such as Finnq.
IT finance personnel, who were treated below of traditional bankers, are looking to actively carry out relevant businesses as their groups have been strengthened due to support from Chairman Kim.
Youngest Deputy Chairman Han Joon-sung of Hana Financial Group was appointed as the top leader for digital-related businesses. Hana Financial Group is planning to expand its distributed management digital asset 'GLN Project' that will replace Swift or Visa and MasterCard payments.
Hana Financial Group is looking to create network that will connect banks from different countries and retailers and various fund buyers that are connected to these banks. Consumers can exchange digital assets into points and electronic currencies through GLN app.
Hana Financial Group newly established DT Lab that oversees digital transformation business and recruited Executive Director Kim Jung-han, who used to work as the director of Samsung Electronics' SW Research Institute, as the director of DT Lab. Hana Financial Group has important fundamental technologies such as AI, Big Data, Blockchain, IoT, and Cloud within its group. It is benchmarking digital network of foreign IT businesses such as Google and Amazon and combining it to finance.
Hana Financial Group has set digital business strategies, which were considered as passive and supplementary concept, as the first survival management strategy. Nonghyup Bank, KB Bank, Woori Bank, and Shinhan Bank have also enhanced their ABCD digital channel strategies and are working on improving their constitutions.
Staff Reporter Gil, Jaeshik | osolgil@etnews.com & Staff Reporter Park, Jungeun | jepark@etnews.com