Apple decided to get rid of 'notch' design, which is an area at the top of a display that is concaved in. Its plan is to improve obstacles such as 3D sensor and camera module that were in the way of implementing a full-screen on the front of an iPhone. It is interesting from a standpoint that Apple is looking for another strategy that will differentiate itself when Chinese Smartphone manufacturers are imitating and applying notch design to their new Smartphones.
According to industries, Apple is preparing a new display without notch design for their new iPhones. This new display will be based on OLED and it is heard that it will be applied to new iPhones that will be released in 2019.
"Apple decided to get rid of notch design starting from 2019 models and is having discussions with relevant companies." said a representative for an industry. "It seems that Apple is planning to implement full-screen that is more complete to its new iPhones."
Specifications such as size, resolution, and shape of a new display have not been confirmed yet. However by looking at the current direction of development, it is likely that this new display will be a rectangular display that will completely fill the front of new iPhones.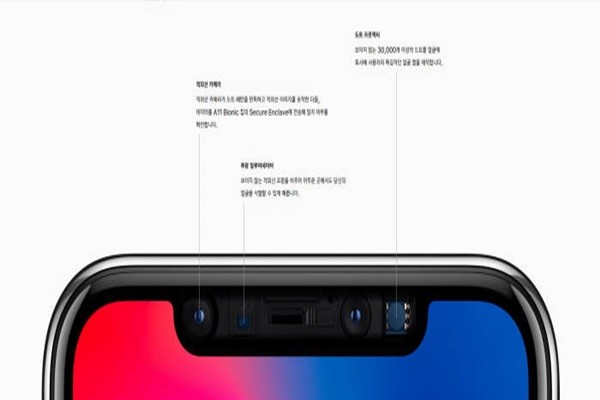 If the front of new iPhones is completely filled with new displays, there are not much space to place receiver or front-camera. It is heard that Apple will keep its face recognition technology called 'Face ID' for 2019 models. As a result, industries are interested on how Apple will be able to place receiver, front-camera, and Face ID feature and implement full-screen at the same time. Some display industries think that Apple will either drill holes into OLED panels or use BM (Black Matrix) area within displays.
Apple has been looking to implement full-screen design on its iPhones. "Our vision always has been to create a iPhone that has its front completely filled with a display." said Apple while releasing iPhone X last year.
On the contrary, there have been many companies that are applying notch design to their Smartphones. At MWC (Mobile World Congress), which ended on the 1st of March, ASUS from Taiwan introduced its Smartphone called ZenFone 5 that looks exactly like Apple's iPhone X. By applying a display that has the top concaved in while completely filling the front with a display, it reminded people of Apple's notch design. Chinese Smartphone manufacturers and even LG Electronics are also preparing new Smartphones with similar design as Apple's notch design.
Apple is planning to release two models with OLED display and a model with LCD display during this fall. It is heard that OLED models will be available in 5.85-inch display and 6.46-inch display while a LCD model will be available only in 6.04-inch model. All three of these models will have Face ID function and it is heard that there will be less bezel and smaller notch design.
Staff Reporter Yun, Keonil | benyun@etnews.com