Samsung Display is going to resume R&D on OLED for next-generation TVs. A large-scale group that will be responsible for this R&D will be supervised by a vice-president. It will be interesting to see whether TV display markets, which are based on LCD, will be reorganized as markets based on OLED as Samsung, which is world's biggest display business, looks to resume its OLED business.
However, there is a chance that Samsung will skip over OLED and go directly to QLED as its final goal is to develop spontaneous-emitting QLED that is an advanced from of OLED.
According to multiple representatives from universities and industries, Samsung Display recently set up a development group with 300 to 400 employees or inkjet printing OLED TV. LCD Business Department that develops large-scale TVs will carry out this new task and it is heard that its department head (vice-president) will be in charge of this new project.
This group will also develop large-scale oxide TFT (Thin-Film Transistor) technology. Samsung developed RGB OLED TV, which was released in 2013, based on LTPS (Low-Temperature Polycrystalline Silicon) TF (Task Force). Because LTPS is good for implementing high resolution, it is usually used for Smartphones and other devices with small and medium-sized panels. Although Samsung applied LTPS technology to large-sized panels at that time, it is heard that it is working on development of oxide-based large-sized panels just like LG Display. However, it is planning to introduce inkjet printing process that is seen as one of next-generation's deposition technologies.
Samsung Display is also planning to launch a task force within its research institute that will research into technologies on next-generation TVs in early next month. An executive within its research institute who is in charge of development of next-generation technologies will be in charge of this task force. This task force will verify various technologies such as QLED and micro LED and create roadmaps for future display technologies.
Samsung's inkjet printing TV technology is different from the one that is being prepared by LG Display.
It seems that Samsung will go with a method that will print both OLED and quantum dot. This method is a hybrid method that uses blue OLED as light source and prints red quantum dot and green quantum dot on top of blue OLED through inkjet method. Internally, Samsung calls this method 'QD-OLED'.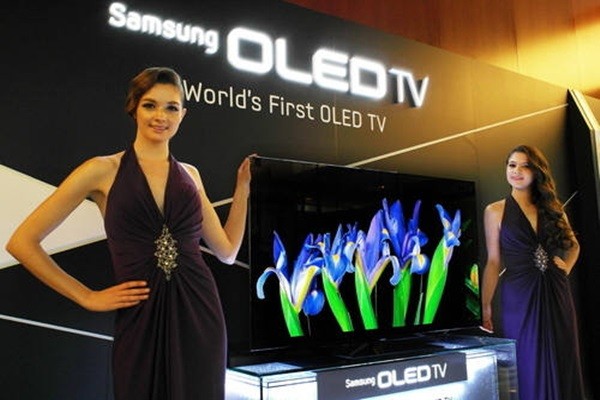 Ultimately, Samsung is planning to develop this technology into QLED technology. QLED is based on a structure where red, green, and blue quantum dots are self-luminous. On the other hand, 'QD-OLED', which is currently in the middle of development phase, has blue OLED replacing blue quantum dot as lifespan and performance of blue quantum dot material are not at a level where they can be commercialized. Although Samsung also researched into a way of implementing red and green quantum dots as color filters, it is more efficient to use inkjet printing as pixels can be printed without color filters.
LG Display is also researching to OLED TV panel based on inkjet printing process. Although its plan of printing RGB pixels separately is same as Samsung, it is not planning to use quantum dot. It seems that Samsung is going to consider a way of using quantum dot and OLED together in order to implement a method that is similar to QLED as much as possible while looking for a way that will differentiate itself from its competitors at the same time.
Currently lifespan and efficiency of red and green quantum dot materials have gotten higher as they are close to being commercialized. However, blue quantum dot lacks a lot compared to blue OLED.
When Samsung secures inkjet printing TV technology, it will be in no time that Samsung will start mass-producing advanced QLED TVs as quantum dot materials are more suitable for printing as they are in liquid form and they are structurally similar to OLED. Samsung can attempt to mass-produce QLED TV right away as soon as it stabilizes mass-production of inkjet printing QD-OLED and secures performance of quantum dot materials in the future.
Reason why Samsung Display is starting on OLED TV business based on printing method is because it wants to reduce gaps left by its large-sized panel business and to prepare for QLED business. Percentage of small and medium OLED panels has gotten higher as they took up about 70% of Samsung Display's sales at the end of the fourth quarter of last year. Although it was successful in grabbing upper hands through advanced technologies on small and medium OLED panels, its large-sized panel business still relies on LCD. Its LCD business is slowly losing its competitive edge as Chinese companies are chasing after South Korean companies.
Industries are predicting that Samsung Display will finalize on investment plans either at the end of this year or early next year as it looks to commercialize QD-OLED TVs in 2021 or 2022.
Staff Reporter Bae, Okjin | withok@etnews.com