World's first biometric credit card that works through biometrics rather than signatures and passwords has appeared for the first time. After demonstration of biometric credit cards in the U.S. last month, they are starting to be linked to South Korean credit card companies on full-scale. These credit cards are used for making payments through fingerprints rather than mobile payment method. They can also be used at ATM machines.
According to IT and financial industries on the 20th, EMV camp that is composed of Euro Pay, MasterCard, and Visa started demonstrating 'fingerprint recognition card' that has information on one's fingerprints. They included standards for biometric confirmation onto their own standards.
In last month, Visa Card started demonstration of EMV dual interface payment card along with acquirers such as MACU (Mountain America Credit Union) and Bank of Cyprus. It is the first demonstration of credit cards that are added with biometrics of consumers.
These biometric cards compare information of fingerprints that is stored within these cards to information of fingerprints that is read by a sensor when a card holder places his or her finger on top of a sensor and go through payments when this information is identical. They notify card holders whether or not the information is identical with either red light or green light and it is impossible to forge these biometric cards. They can be completed by confirming fingerprints through regular credit cards without having to sign signatures or input passwords. They also greatly minimize payment process as they do not require separate applications or Smart devices and they are ahead of mobile payments in versatility and security.
Biometric cards protect biometric information as biometric information is installed within biometric cards and as these cards use token technology. They also support non-face-to-face payments such as IC (Integrated Circuit) payment and NFC (Near Field Communication) payments. Because retail stores do not have to upgrade hardware of card readers, they do not have to purchase separate card readers.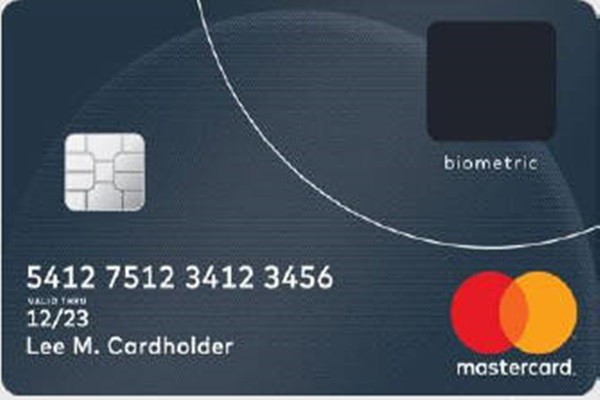 MasterCard completed a pilot test of its biometric cards last year and is currently working to link them to South Korean credit cards. MasterCard also solved battery issue. Besides installing a battery within a biometric card, MasterCard commercialized a technology that supplies power to biometric cards from card readers whenever they are used for IC payments. This technology drastically lowers unit cost of biometric cards and allows these cards to be used as normal credit cards without having to charge them. MasterCard is pushing for a way to register its customers' fingerprints through non-face-to-face method this year.
Reason why 'credit card + biometric card' is drawing so much attention is because it is being promoted by EMV camp that holds global payment process standards. Many predict that versatility and security of these biometric cards will surpass that of mobile payments.
Biometric cards can accommodate any card reader that is on markets. Their biggest competitive edge is familiarity as they use same payment method as normal credit cards.
Fact that they do not require signatures or passwords is another appeal of theirs. EMV camp is planning to supply biometric cards throughout the world after going through demonstrations during the first half of this year.
As simple payments based on Smartphones have grown very rapidly, competitions within businesses on present payment markets are very competitive. It is expected that changes to EMV camp, which has been dominating payment markets, will bring new changes to payment markets that have been on a trend to becoming mobile payments. It is inevitable that Apple and Google, which came into payment markets late, will be negatively impacted by biometric cards.
It seems that there will be new markets for relevant back-end industries such as chip, battery, and plate as EMV camp will need large-scale of production systems from relevant companies that manufacture various parts, materials, and molds that go into credit cards. Bank of Cyrpus and MACU selected Gemalto, Finger Printer Card, and Kona I as their major suppliers.
Staff Reporter Gil, Jaesik | osolgil@etnews.com & Staff Reporter Ham, Jihyeon | goham@etnews.com