Apple is going to include Face ID feature, which is a security technology that unlocks a Smartphone, to all three new iPhones that will be released this year. It was recognized for its convenience after it was first introduced through iPhone X. As Apple begins to apply this feature to more of its products, its relevant partners will be faced with increased demands.
According to industries on the 7th, Apple decided to include Face ID feature to all three new iPhones (two OLED models, one LCD model) that will be released this year and selected suppliers that will provide relevant modules. LG Innotek and Sharp are currently in charge of manufacturing Face ID modules for iPhone X. However there will be changes to this group for the upcoming iPhones. While LG Innotek will remain as a module supplier for follow-up models of iPhone X, Apple also selected Chinese companies to be its module suppliers as well.
It is found out that Apple selected two Chinese companies where one is a company that is emerging amongst Smartphone part markets while other one is a popular semiconductor packaging company. It is heard that LG Innotek will be the biggest main vendor out of the three module suppliers while two Chinese companies will be in charge of rest of supplies.
It was noticed early on that Apple has been planning to apply Face ID features to more of its products. Apple announced last December that it would be investing $390 million into VCSEL (Vertical-Cavity Surface-Emitting Laser) manufacturer called Finisar. VCSEL is a major part that goes into Face ID module of iPhone X. However, this is the first time that names of Face ID module manufacturers were materialized and shown. It seems that Apple has started to establish SCM (Supply Chain Management) for new models that will be released this fall.
LG Innotek announced in January that it will be investing $804 million (873.7 billion KRW) into 'camera modules for mobile devices and new technologies for modules'. However it did not say in detail as to what these new technologies are and where these camera modules will be used. A prediction by industries that believe that this investment is for Apple's Face ID modules is highly likely as LG Innotek is increasing amount of supplies it delivers to Apple. "We cannot confirm any information regarding our customers." said LG Innotek regarding predictions made by industries.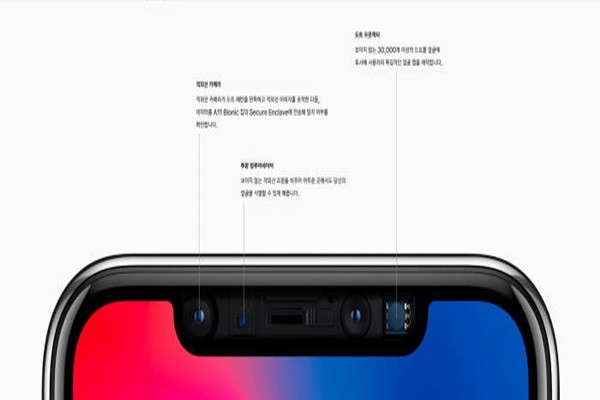 Apple is a business that has huge influence as it can shake up entire markets for electronic parts. Although its iPhone X sales have been lower than its expectations, entire sales volume of its iPhones surpasses 200 million units annually. Not only does Apple purchase huge amount of parts for its iPhones, it also leads market trends.
Current trend has 3D face recognition technology that Apple introduced into its Face ID feature spreading to other Smartphone manufacturers. Markets for Smartphone parts such as VCSEL and IR (Infrared) cameras are fluctuating according to this trend. Infineon, which is a German semiconductor business, released 3D image sensor based on ToF (Time of Flight) last month.
Because Apple's influence also has significant impact on many companies' performance, it will be interesting to see which companies come out happy or sad. LG Innotek recorded positive performance during the fourth quarter of 2017 as it supplied dual-cameras and Face ID modules to Apple. Industries are focuses on changes to LG Innotek's performance in 2018 and performance of two Chinese companies chosen as Apple's suppliers. Because it is rare that Apple assigns Chinese companies instead of South Korean or Japanese companies with manufacturing of major parts of its iPhones, industries are also focused on emergence of Chinese Smartphone parts manufacturers.
According to industries, it is heard that Apple will begin enhancing face sensing feature starting with 2019 models. That is why it is beginning to increase number of parts that will go into future models and is looking into combining them with camera modules.
Staff Reporter Yun, Keonil | benyun@etnews.com