Samsung Electronics has practically secured new customers from the U.S. and China for its 7-nano foundry business. This indicates that it succeeded in making a counterattack after it lost rights to produce Qualcomm's 7-nano chips to TSMC. It is heard that it is finalizing a negotiation with Hwasung-si regarding construction of new 7-nano plant and finalize administrative procedures early December at the earliest. Positive forecast is seen for its 7-nano foundry business.
According to industries on the 22nd, Samsung Electronics' Foundry Business Department is currently discussing about 7-nano foundry service contracts with large-scale semiconductor manufacturers from the U.S. and China. It is heard that the American manufacturer already agreed up to production of test chips and is making preparations accordingly. Chinese manufacturer is a company that develops SoC (System on Chip) for mobile devices and is discussing internally about entrusting Samsung Electronics rather than Taiwanese companies with production of 7-nano chips.
Samsung Electronics introduced 7-nano PDK (Process Design Kit) 0.1 version starting from the second half of this year and has carried out business activities on potential customers. 0.5 version, which is a revised version, will be provided sometime this month. PDK is a type of database (DB) for design that is provided from a foundry company to a semiconductor designing company and it helps with design that is specialized for foundry manufacturing process and characteristics of equipment.
Qualcomm and Broadcom are designing next-generation chips through TSMC's7-nano PDK. TSMC is planning to produce 7-nano chips by using normal steppers repeatedly. Due to this reason, many customers including Qualcomm decided to mass-produce their first 7-nano chips through TSMC.
It is expected that Samsung Electronics will be slightly late in commercializing 7-nano process than TSMC. However it has been emphasizing that its 7-nano process that is applied with EUV (Extreme Ultraviolet) photolithography technology is truly the next-generation process from all aspects such as area, performance, and amount of electricity consumption.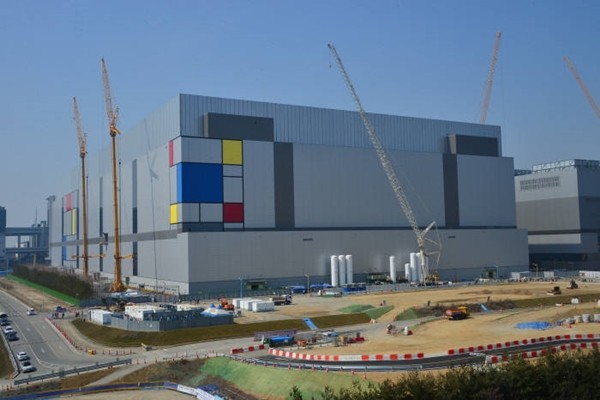 Samsung Electronics is predicting that it will produce 40,000 to 50,000 units per month from its EUV 7-nano plant and current 17 line system semiconductor line when it secures these two new customers and adds Exynos supplies on top of amount of supplies for these customers. It also set a strategy to bring back customers that it lost to TSMC by quickly commercializing 6-nano process, which is based on 7-nano process. In order to carry out this strategy successfully, it sent a LOI (Letter of Intent) to ASML, which is an equipment manufacturer in Netherland, about purchasing nine EUV equipment. It already introduced one of them to its production line in Hwasung and is going to bring in another one by end of this year. Rest of seven equipment will be brought in one by one.
However it needs to push forward timing of its construction as the approval for its new 7-nano plant, which is going to be built on a parking lot of its Hwasung campus, is being delayed. Initially Samsung Electronics was planning to build its new plant sometime this month. However Hwasung-si requested construction of underground roads worth $64.6 million (70 billion KRW) due to possibilities of increased traffic, and the approval has been delayed during this process.
The head of Samsung Electronics' Giheung-Hwasung complex met with Mayor Chae In-seok of Hwasung-si on the 10th of November and told him that Samsung Electronics will partially pay for the construction of underground roads in advance if it believes that there may be increased traffic in the future and requested Mayor Chae to issue the approval as soon as possible. Hwasung-si accepted such proposal. Industries are predicting that the approval will be issued in early December.
"Department Head (President) Jung Eun-seung of Foundry Business Department is emphasizing to Samsung Electronics' employees and partners that everything such as construction, development of processes, and warehousing of equipment needs to be pinpoint accurate." said a representative for an industry. "Vice-President Park Chan-hoon, who was appointed as the head of Giheung-Hwasung-Pyeongtaek complex followed by President Hwang Deuk-kyu, is assigned with a task to push forward timing of construction of the new plant."
Staff Reporter Han, Juyeop | powerusr@etnews.com