Samsung Electronics is going to extend its DRAM production lines at its semiconductor plants located in Hwasung and Pyeongtaek.
Price of DRAM is rising steadily due to higher number of demands than number of supplies. As memory industries have been refraining themselves from extending their lines, they have been enjoying their biggest economic boom. If Samsung Electronics increases quantity of supplies and not maintain this current situation, this will make other latecomers nervous. In the past, Samsung Electronics drove latecomers over the edge by hugely increasing output of DRAMs in spite of recession.
According to industries on the 30th, Samsung Electronics is currently converting part of its 16 line of Hwasung plant that produces 30,000 2D NAND flash memories (per month based on wafer input) in order to produce DRAMs in the future. It is confirmed that Samsung Electronics has been bringing in equipment since early October. It is going to go into mass-production system in first quarter of 2018.
Samsung Electronics has also decided to bring in DRAM equipment on the second floor of its new Pyeongtaek plant where cleanrooms are being built. Total manufacturing capability of this second floor is 200,000 units per month based on wafer input. Construction is currently being carried out by dividing the west (1st stage) and the east (2nd stage) of the plant. 30,000 DRAM units and 70,000 3D NAND flash memory units will be inputted into the 1st stage and 2nd stage of investments respectively. Samsung Electronics is going to start ordering equipment in this December and operate its Pyeongtaek plant starting from Q3'18.
About 60,000 DRAM units will be produced additionally from Hwasung and Pyeongtaek plants in 2018. It is expected that amount of increase in quantity of supplies will not be much as of right now due to reduction of 30,000 DRAM units as 11 line of Hwasung plant is converted to image sensor production line and increase in number of processes because of it. Due to these reasons, it is likely that price of memories will continue to go up in 2018.
However unit cost of supplies may drop as quantity of supplies will increase greatly after H2'18. Samsung Electronics has decided to tentatively produce DRAMs from entire 16 line of Hwasung and 2nd stage of investments that will go into the second floor of new Pyeongtaek plant. Just by producing DRAMs from remaining space of 16 line (135,000 units) and 2nd stage of investments for second floor of Pyeongtaek plant (100,000 units), Samsung Electronics will be able to produce 235,000 additional units. It will be doing so starting from 2019.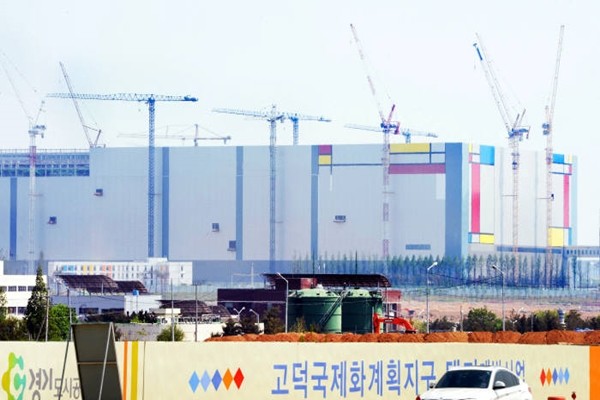 "Samsung Electronics has decided on supplemental investments that are urgent for short period of time and is ordering or bringing in equipment." said a representative of an industry. "It is heard that Samsung Electronics' medium-tern strategies that will have huge impact on markets will be decided after appointment of new director for Samsung Electronics' DS (Device Solution) Business that will take place shortly."
According to a market research company called DRAMeXchange, global quantity of supply of DRAMs at the end of third quarter was 1.1 million units per month based on wafer input. Samsung Electronics, SK Hynix, and Micron are responsible for 370,000 units, 310,000 units, and 330,000 units respectively. Some of Taiwanese businesses are also producing DRAMs.
If Samsung Electronics increase amount of output according to its tentative plan, more than 20% of supplies based on production capacity of entire DRAMs will be added additionally to markets. SK Hynix is also constructing a new plant in Wuxi with manufacturing capability of 120,000 units per month based on wafer input. It is planning to mass-produce DRAMs after finishing the construction by end of next year and bringing in equipment in following year.
"Internally, Samsung Electronics is not happy with SK Hynix and Micron, which lacks technical skills, are making their biggest profits from their DRAM businesses." said a representative who is familiar with memory semiconductor markets. "Some of Samsung Electronics' personnel believes that this economic boom needs to be finished before China enters DRAM markets."
Samsung Electronics' refining process of its DRAM is at least a year or at most two years more advanced than its competitors and it also has high competitive edge in its production cost. This is the reason why Samsung Electronics is able to make profits while its competitors are making losses due to recession. Experts explain that economic boom of semiconductor industries may continue or end depending on timing and size of Samsung Electronics' investments. Even if it partially returns its profits depending on domestic and foreign conditions, it can still cause recession. It is heard that President Kim Ki-nam of Samsung Electronics' Semiconductor Business Unit, who is seen as 'post Kwon Oh-hyun', is sympathizing with a need for aggressive extension of production lines.
Staff Reporter Han, Juyeop | powerusr@etnews.com