EMW Energy (President Ryu Byung-hoon), which is a subsidiary of EMW, will be the first ever to develop and commercialize zinc air secondary battery as an ESS (Energy Storage System) for households. This is the first time when a rechargeable secondary battery rather than a primary battery has been developed through zinc air.
In 2015, EMW Energy commercialized zinc air primary batteries after going through ten years of R&D. It developed its secondary battery as 1kW battery pack prototype with about 350 cycles of charge and discharge.
When a rechargeable zinc air secondary battery is commercialized, it will be used to store power that is produced from solar power or wind power and use that power at night. It is expected that this battery will be able to resolve lithium ion batteries' problems regarding restriction on resources and safety.
Zinc air battery is a battery that produces power from zinc reaction that occurs when oxygen in air and zinc inside of a battery are oxidized.
Because it is composed only of cathode, its battery capacity is twice larger than current batteries that are composed of both cathode and anode. One of its strengths is its safety as it does not explode when it is shot with a gun or is put inside of fire by using mercury electrolyte. It can be stored up to about five years as there is almost zero self-discharge as long as it is not exposed to air. Because it is made out of zinc, which is a common metal, rather than lithium, stable supply of it is possible and it is also inexpensive.
Due to these characteristics, zinc air batteries have been used to supply power to remote railroad signals or buoys. After a technology that allows cathodes to be manufactured thinner was developed, they have been also used for hearing aids or as batteries for cameras.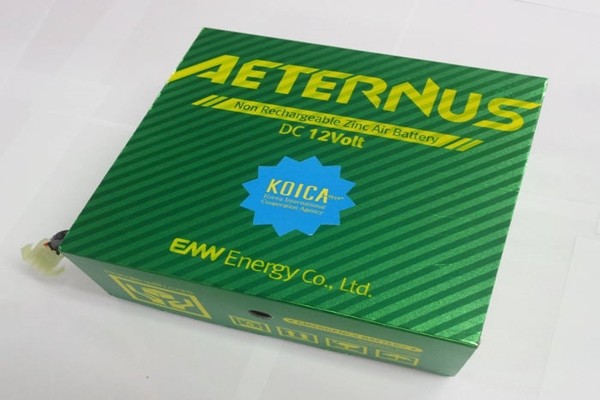 3rd generation zinc air primary batteries that are being used currently were developed when the U.S. lost their troops and had its equipment damaged as batteries for walkie-talkies exploded during an Iraq invasion. Only a business in Israel and EMW Energy are the only ones in the world that can produce 3rd generation zinc air primary batteries.
"Although some predicted that it will be impossible to develop zinc air secondary batteries, we have secured a meaningful zinc air secondary battery cycle by making a driving part that supplies water in order to maintain constancy of cells and introducing new separator." said Technical Director Kong Jae-kyung of EMW Energy. "While people are worried about using lithium ion secondary batteries at home due to expensive cost and possibility of explosion, it is expected that zinc air secondary batteries will be eventually used as ESS at home as they are safe around fire."
EMW Energy successfully developed zinc air primary battery packs for walkie-talkies and supplied them to South Korean Army and is currently working on field tests for satellite walkie-talkies. It also obtained DUNS (Data Universal Numbering System) number, which is used as an international business registration number, and is working on exporting its products to U.S. Army.
Besides for military purpose, EMW Energy also saw that its product is demanded for operating telecommunication equipment when there is a shipwreck and starting a car that is discharged and during disasters such as earthquakes or tsunami. It is estimated that global markets for zinc air primary batteries are currently worth $3.50 billion (4 trillion KRW) annually.
EMW Energy is already supplying its zinc air batteries for purpose of preventing disasters under the trademark of 'AETERNUS' to Japan, which is prone to many disasters, and is getting many positive responses for its product such as its product being registered as a recommended product by Japanese Disaster Safety Association. Starting with Japan, EMW Energy is also working to export its products to U.S. markets.
Because 12V battery pack product can withdraw 110V or 220V through AC (Alternating Circuit), it can charge 12 Smartphones at the same time, start a car, or turn on a light for about 150 hours even when its power is cut off during an emergency.
Staff Reporter Jung, Hyungjung | iam@etnews.com