LG Electronics has decided on a roadmap for schedule of domestic sales of 'V30 and V30 Plus'.
Excluding Unpacked event, all the other schedules are identical to schedules of 'Galaxy Note 8'. Its plan is to separate consumers' attention and to emphasize its confidence towards performance of its new products. 'Lavender' color, which is introduced for the first time, is its main weapon for targeting consumers.
LG Electronics and three South Korean mobile network providers are going to carry out a presale for V30 and V30 Plus starting from the 7th of September for eight days and is going to officially release them on the 15th of September. LG Electronics is going to launch V30 and V30 Plus in Berlin on the 31st of August (German time) and is planning to establish areas at offline stores in South Korea starting from the 1st of September with mobile network providers so that consumers can experience its new products.
V30 and V30 Plus will be divided into 64GB and 128GB respectively and will have four colors of black, blue, silver, and lavender. Only black color will be available for V30 Plus that will be released in South Korea. Blue color will play a role of keeping Galaxy Note 8's deep sea blue color in check. Lavender color is going to be a color that is introduced for the first time by LG Electronics to its Smartphones and is going to be a hidden card that will draw attention of consumers.
V30 series is going to be the first Smartphones that will support Korean Google Assistant, which is an AI (Artificial Intelligence) voice assistant. It was confirmed that V30 series that were sent to mobile network providers in order to test connection between network also supported Korean Google Assistant.
The center and the bottom of the back of V30 series are engraved with B&O and LG logos respectively. V30 series are equipped with a dual-camera at the top and have added luxurious feeling as they have become thinner and applied metallic materials. Front of V30 series looks more round than G6 as V30 series are applied with 18:9 bezel-less design.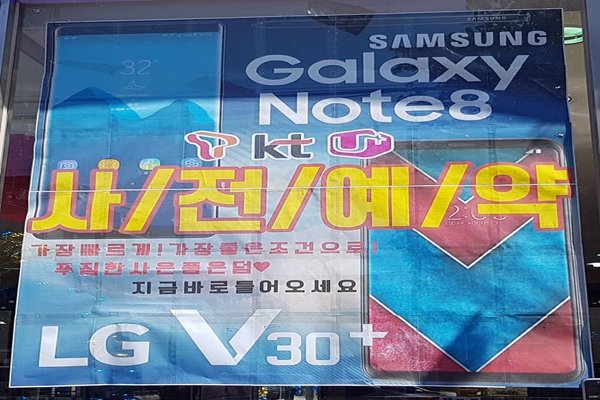 LG Electronics also carried out a marketing strategy that is trying to lure customers of its competitors as its customers by directly targeting Galaxy Note 8 through a teaser video of V30 that formed a letter 'V' by breaking a 'pen'. This indicates that LG Electronics is confident about its new products more than ever.
Smartphone experts are seeing that store prices of V30 and V30 Plus will become an important factor that will determine the winner and the loser between LG Electronics and Samsung Electronics. LG Electronics and mobile network providers are discussing about setting up store price of V30 to be around front-end of 900,000 KRW ($804.52). There is a high chance that store price of V30 Plus, which has bigger memory than V30, will surpass $893.91 (1 million KRW).
"If we consider that specifications and functions of V30 and Galaxy Note 8 are all equal, LG Electronics needs to compete with Samsung Electronics through its competitive edge in price rather than its competitive edge in its brand." said a Smartphone analyst.
V30 series are equipped with 18:9 6-inch OLED displays, Qualcomm's Snapdragon 835 chipset, rear dual-camera, 6GB RAM, 3,200mAh battery, fingerprint recognition sensor, wireless charging function, and LG Pay. They are also equipped with Hi-Fi Quad DAC (Digital-to-Analog Converter) and are going to be the first Smartphones to support high-compressed format standard called 'MQA (Master Quality Audio)' that supports high-quality Hi-Fi streaming through small data.
Staff Reporter Choi, Jaepil | jpchoi@etnews.com