High-precision 3D map (HD Map) with less than 10 cm of margin of error will be used for self-driving cars that will be going in Pyeongchang and has the world's best margin of error. It is more accurate than sensor-based self-driving cars and supports safe driving.
According to South Korean Government and industries on the 8th, Hyundai MNsoft is currently working on ultra-high-precision HD Map that will be used for self-driving cars, which will be in operation during 2018 Pyeongchang Winter Olympics that is going to be held in February of 2018. It is going to finish gathering data shortly and complete developing systems that will supplement driving for self-driving cars.
Hyundai Motor Company's HD Map is a high-precision 3D map for self-driving cars that includes actual road information such as location of roads, marks on roads, width, curvature, information on slopes, signals, and signs. It will be applied first to self-driving shuttles that will be going back and forth between Seoul and Pyeongchang and self-driving cars that will be going around main stadiums in Pyeongchang.
Hyundai MNsoft is currently collecting 3D data of highways and national highways with data-collecting vehicles that are equipped with high-precision radars and LiDARs (Light Detection and Ranging). These vehicles collect topographic information by shooting hundreds of thousands of laser beam strands in a second. 3D map that shows crooked roads and difference of elevation can be made since images that are captured by 4 digital cameras that take 200 pictures per second by turning 360 and level of slope that is measured by IMU (Inertial Measurement Unit) are implemented through CG (Computer Graphic).
HD Map decreased margin of error from 20 to 30 meters, which was margin of error for previous maps, to les than 10 cm through high-precision GPC technology. Its accuracy is really high that it even makes self-parking possible. It makes accurate driving possible by having map services provided in units of roads and this is identical to recent technologies such as HERE and TomTom that are put out by global map service providers. HD Map can even provide navigation that corresponds to current conditions as it interworks with Clouding service and is applied with real-time traffic information.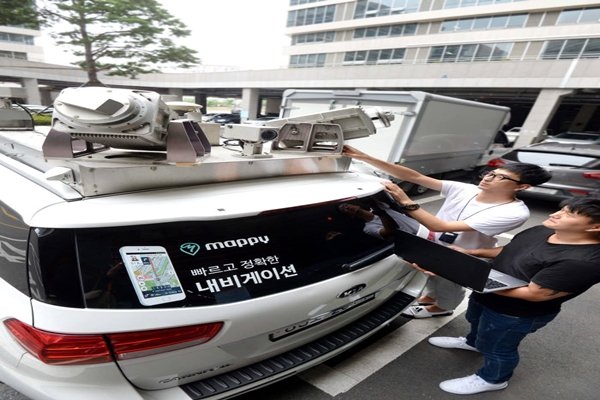 "We reorganized our business structures and made a lot of investments in the past couple years in order to secure competitive edge in automotive software (SW) such as electronic map, LBS (Location Based Service), and telematics." said a representative for Hyundai MNsoft. "We are going to develop HD Map for self-driving cars that was introduced at '2017 CES', which was held in Las Vegas early this year, and establish HD Map that corresponds to self-driving car project that is carried out by South Korean Government and Hyundai Motor Company."
Conditions for driving self-driving cars around Pyeongchang are very complicated as there are many uphill and downhill and many curved roads. There is going to be a lot of snow during 2018 Pyeongchang Winter Olympics as it will be happening during a winter season. Snow disperses light and is the main reason that causes malfunction of sensors for self-driving cars. Due to this reason, it is difficult to safely drive self-driving cars with just sensor-based self-driving technologies.
"It is difficult to implement self-driving technologies even on highways where roads are smooth. Level of completion of technologies has to be significantly high for roads in Gangwon-do during a winter season." said a representative for Ministry of Land, Infrastructure and Transport. "Because HD Map has 3D information of roads and accurate data, it can supplement any limitations of sensors such as cameras, radars, and LiDARs that are needed for self-driving cars."
South Korean Government and Hyundai Motor Company are planning to provide self-driving fuel cell electric vehicle-based SUVs and buses at 2018 Pyeongchang Winter Olympics. Current level of Hyundai Motor Company's self-driving technologies corresponds to level 4 based on SAE (Society of Automotive Engineers). Level 4 corresponds to having drivers not intervene at all with driving and having systems control speed and direction of cars in every situations within fixed conditions.
Staff Reporter Ryu, Jongeun | rje312@etnews.com