Samsung Display is going to operate 7 of its 6th generation flexible OLED lines, which are for Apple, on full scale this month. Its production capacity of panels for iPhones will increase by 7 fold from 15,000 panels per month from last year to 105,000 panels per month this year.
According to industries on the 3rd, Samsung Display finished inspecting 7 of its lines that produce OLEDs for iPhones sometime this month and is going to operate them on full scale.
Since last year, Samsung Display has been investing a lot of money into bringing in equipment into A3 plant and constructing back-end process lines in Vietnam. While amount of its annual plant and equipment investment used to be between $3.55 billion and $4.44 billion (4 trillion KRW and 5 trillion KRW), Samsung Display invested doubled its average annual investment last year by investing $8.69 billion (9.8 trillion KRW). It also invested $7.72 billion (8.7 trillion KRW) just during first half of this year.
Initial production capacity of A3 line, which produces OLED panels for Apple's iPhones, was 15,000 panels per month in 2015. Although it used to mainly produce flexible OLED panels that were for Samsung Electronics, Samsung Display started increasing amount of plant and equipment investment during second half of 2015 and increased its production capacity to 30,000 to 45,000 panels per month last year. Out of this production capacity, 15,000 panels are made for Apple.
In 2016, Samsung Display started bringing in equipment one at a time after deciding production capacities of panels for iPhones and Samsung Electronics and Chinese customers to be 105,000 panels per month and 300,000 panels per month respectively. It completed production lines for Apple and is going to operate them on full scale during sometime this month. Lines for other customers are expected to be operated starting from fourth quarter of this year.
Samsung Display started operating its rear-end process line, which is constructed in Vietnam, at the end of June and is manufacturing initial supply of panels for iPhones at this line.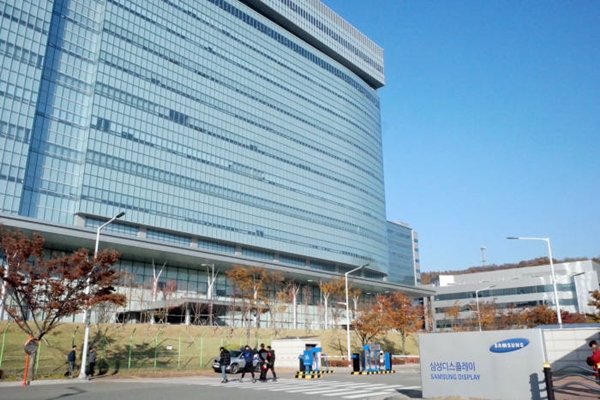 Samsung Display partially produces flexible OLED panels along with rigid OLED panels at its A2 line. However it only produces panels for iPhones at A3 line as technologies that Apple requested are different as the ones that are applied to A2 line.
If Samsung Display operates production lines for Apple at an operation rate of 100% with 100% yield, it is able to produce about 124 million 6-inch panels and 130 million 5.8-inch panels respectively in single year.
However it is heard that yield for panels that Apple requested is low due to high degree of technical difficulty. Industries believe that yields for Samsung Electronics' panels and Apple's panel are at least 80% and about 60% respectively.
If Samsung Display operates its lines at an operation rate of 100% with 60% yield, it is able to produce about 75 million 6-inch panels and 79 million 5.8-inch panels respectively. Considering the fact that yearly sales volume of iPhones is about 200 million and that production capacity of LG Display's E6 line, which is going to be operated starting from second quarter of 2018, is only about 15,000 panels per month, it seems unlikely that entire 2018 iPhone series will have OLED panels.
In order to increase production capacity of 6th generation flexible OLED, Samsung Display is currently thinking about making additional investments into a new plant called A5 (tentative name). L7-1 line, which is converted from LCD to 6th generation flexible OLED, is currently being built to have production capacity of 30,000 to 45,000 panels per month. It is going to be operated starting from fourth quarter of this year.
As soon as Samsung Display's investments, which had heated up global display markets last year and this year, ended, industries are now turning their attention towards possibility of Samsung Display's investment into A5. Samsung Display decided to construct this new plant and to invest $887 million (1 trillion KRW) this year. Actual cost that is needed to finish constructing this plant will be made in 2018.
Staff Reporter Bae, Okjin | withok@etnews.com