#A person named John went down to Busan, which is his hometown, by riding his car as Korean New Years approached. John, who pressed a self-driving button, reclined his seat and pressed 'car management device 'with every IT functions. Smart Mobility function was operated right away and applied real-time traffic conditions so that his car will follow directions with least traffic. Front window of his car was changed to a large TV. John turned on a home shopping channel in order to buy presents for his parents. 'Fingerprint recognition' button corresponding to desire products was operated and purchase was made through his voice. He was able to complete fingerprint recognition and payments inside of his car. He can get his goods at a rest area near the center that distributes goods that he purchased.
This is a picture that will be seen on roads in just couple years.
As cars are having complete changes into 'Smartphones with wheels', automotive manufacturers, banks, credit card companies, and makers of parts and materials are having competitions for 'car pay' that embeds every functions that are implemented through Smartphones into cars.
Cars are evolving into a 'connected device' that one can ride as automotive controls and monitoring services will be installed inside of cars and as streaming of contents and variety of applications will be connected to Smartphones.
Through development of variety of software (AS) and as information and contents services will be available not only for drivers but for all passengers in a car, cars will be able to learn information and provide spaces where one can spend money on contents. As generations of perfect self-driving cars that do not intervention from drivers approach in the future, they will be turned into platforms that can make shopping, variety of payments, and O2O (Online to Offline) services available.
Shinhan Card, GS Caltex, LG Uplus, and Owin have joined forces and are going to start 'connected car commerce pilot test'. When cars enter gas stations, gas will be filled automatically and application of bonus cards and payments will be made automatically as well. GS Caltex is going to introduce beacon payments in order to interwork commercialization. Automatic payments will also be available at parking lots based on actual time a car leaves and enters a parking lot.
These businesses are going to gather about 50 test drivers by the 11th in order to commercialize connected cars. These drivers are going to enjoy service tests at GS Caltex gas stations in Gangnam, Seocho, and Songpa. When they enter gas stations, every payments including bonus cars will be made automatically. Besides gas stations, small affiliated stores such as restaurants, flower shops, and cafes are also included in this test. This test completes every payments automatically without having to have drivers get off of their cars to pick up their goods. They are also preparing Smart Payment service that makes cars themselves as payment methods by giving digital IDs to cars.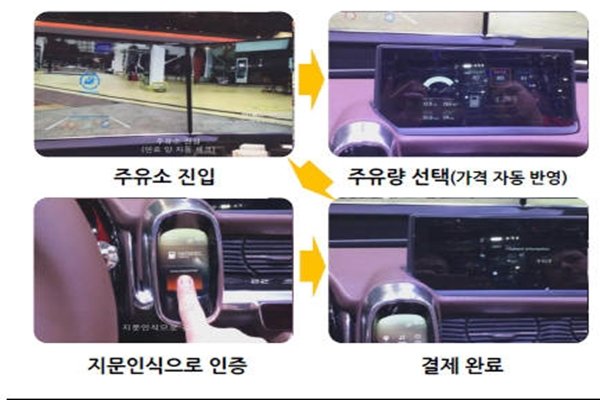 There are almost no examples where connected car services, which are seen as ultimate combination of ICT (Information Communication Technology) and cars, have been commercialized. South Korea has taken a step first into a huge market called 'payment through a car' before other countries.
Global businesses such as Apple, Baidu, and LeTV are already competing each other in connected car markets through their own platforms. Their plans are to dominate OS (Operating System) and make huge amount of money by applying variety of contents into commerce platforms.
Apple and Google are developing infotainment platform car play and Android Auto respectively and have joined forces with well-known automotive manufacturers such as Audi, Volkswagen, Benz, Ford, Volvo, GM (General Motors), and Hyundai Motor Company. Baidu and LeTV are also working with Audi and Volkswagen through their platforms called Car Life and IoV respectively. In a long term, it is likely that these platforms will make payment services possible through V2V (Vehicle to Vehicle).
These platforms process sales of contents such as movies, TV shows, and shopping and business transactions inside of cars through separate devices or technologies.
"Cars will evolve into channels for business transactions." said Kang Seo-jin who is a researcher for KB Financial Group Research Institute. "Payment technologies that are much safer and are based on safe non-face-to-face encounters are needed."
Visa Card recently applied automotive payment service that turns cars into credit cars into cars from Honda and started a pilot project. Jaguar started on a service that automatically pays for gas after joining forces with a British oil company called Shell early this year. This service pays gas through Paypal or Apple Pay. Daimler Group acquired PayCash, which is a mobile payment company, and is preparing 'Mercedes Pay'. Peogeot held a car commerce demonstration at Seoul Motor Show this past March. It is going to apply separate system to its new Peugeot 300 SUV, which is expected to be released soon. Hanbul Motors, which is a company that imports cars from Peogeot, is planning to apply this service to all cars from Peogeot.
On the other hand, BI Intelligence is estimating that size of connected car service and hardware (HW) industries will increase from $50 billion in 2015 to $160 billion in 2020.
Staff Reporter Gil, Jaeshik | osolgil@etnews.com & Staff Reporter Ryu, Jongeun | rje312@etnews.com