Samsung Electronics and Harman have changed paradigms of movie industries as they have commercialized world's first technology that directly shows images and videos on LED screens without having to use projectors, which have been used to show movies on screens for past 120 years. Samsung Electronics has set a plan to replace 10% of all movie theaters in the world with LED screens by 2020.
Samsung Electronics along with Lotte Cinema introduced a movie theater called 'Super S', which is installed with 'Cinema LED', for the first time at Jamsil World Tower Branch on the 13th. Cinema LED directly shows movies on LED screens just like TV screens.
"Based on Samsung's technical skills in displays, we have commercialized world's first 'Cinema LED' screen that #does not need a projector." said Department Head (President) Kim Hyun-seok of Samsung Electronics Video Display Business Department. "Samsung Electronics is standing at the center of a screen that has caused important changes in a movie history."
Current movie theaters show movies on either white or gray screen curtain with a digital beam projector. Although these projectors have developed into digital and laser projectors after starting as a film projector in 1985, a concept of showing a movie on a screen with a projector has not changed. Light of projectors is not much bright as movies can be seen clearly only if inside of a movie theater is dark. Because they expand movies through lenses, there can also be distortions around movie screens.
Cinema LED, which supports 4K (4096x2160) resolution, has overcome limitations of projectors. It boasts brightness that is 10 times brighter than current projectors. It also allows one to watch a movie in a brighter space. Besides movies, it can also be used for variety of events such as competitions for games. Because it is applied with HDR (High Dynamic Range) technology, it allows one to enjoy HDR contents that have much better light to shade ratio. It is also the first movie equipment excluding projectors to obtain digital cinema standard called 'DCI (Digital Cinema Initiatives)' certification and it can provide 100% color representation. Width and length of Cinema LED that is installed at Lotte Cinema is 10 meters and 5.4 meters respectively and it is the same size as a screen that is installed at movie theaters in the world.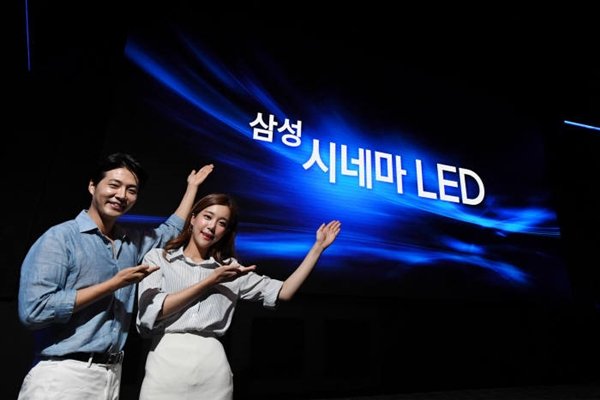 Harman's audio technologies are also applied to 'Cinema LED'. After acquiring Harman, Samsung Electronics has been continuously working with Harman in order to develop Cinema LED. Unlike how one is able to hear sound clearly at the center of current movie theaters, Harman's audio technology allows one to hear vivid sound wherever he or she sits in a movie theater. Harman's JBL speakers are installed to Cinema LED and they were tuned directly by Harman's audio experts.
Starting with Lotte World Tower Jamsil Branch, Samsung Electronics and Lotte Cinema are going to expand 'Super S' movie theaters that have Cinema LED throughout major cities in South Korea.
Lotte Cinema is currently discussing with Samsung Electronics in order to expand movie theaters at its major Lotte Cinemas in South Korea according to size of Lotte Cinemas.
Besides Lotte Cinema, Samsung Electronics is also working with other South Korean and foreign businesses in order to target global movie theater markets.
According to Samsung Electronics, it is currently pushing for business cooperation in order to open movie theaters with Cinema LED in the U.S., China, Europe, and South-East Asia.
"After acquiring an American business called YESCO Electronics that specializes in LED for commercialization in 2015, we have expanded our businesses towards cinema markets and we believe that there are enough business values in these markets." said Vice-President Kim Seok-ki of Samsung Electronics Video Display Business Department. "Our goal is to replace 10% of all movie theaters in the world with LED screens by 2020."
"Super S is a new paradigm for movie screening." said CEO Cha Won-cheon of Lotte Cinema. "We are going to provide better settings for watching movies and variety of new contents by actively working with Samsung continuously and applying more advanced technical skills to movie industries."
Staff Reporter Kwon, Dongjoon | djkwon@etnews.com