KT is introducing electric vehicles as company cars.
KT signed off on a 'business agreement for expansion of eco-friendly electric vehicle markets' with Hyundai Motor Company and Lotte Rental on the 11th.
According to this agreement, KT is going to start bringing in1,000 IONIQs from Hyundai Motor Company during second half of this year and is planning to replace about 10,000 company cars with electric vehicles by 2022.
KT is also planning to establish charging infrastructures sequentially by utilizing its 400 KT company buildings in South Korea.
On this day, these 3 businesses agree to participate in eco-friendly policies established by South Korean Government and promised to contribute in improving health of South Koreans by reducing fine dust and other ways and to help and join in a generation of eco-friendly cars through innovative IT and mobility.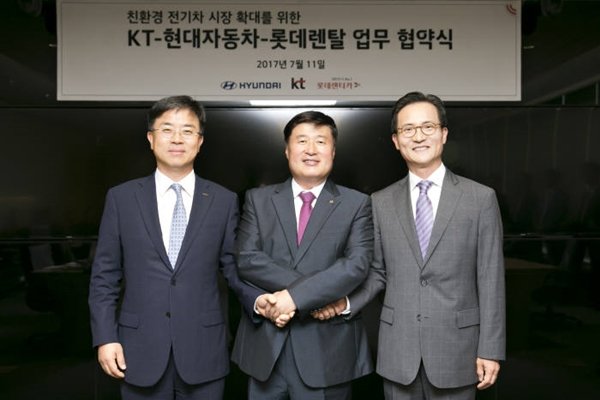 Also they are planning to continuously improve level of convenience for customers by expanding charging infrastructures of electric vehicles.
"By replacing company cars with electric vehicles, we are going to lead eco-friendly services that have zero fine dust and zero carbon emission." said President Lim Heon-moon of KT. "Not only are we going to expand charging infrastructures through partnership between 3 businesses but we are also going to create synergy for 5G-based future automotive business."
"Electric vehicles are optimum platforms that combine mobility and IT." said Vice-President Lee Kwang-kook. "Through partnership between 3 businesses for supply of electric vehicles and expansion of infrastructures, we are going to lead innovation of lifestyle in South Korea."
Staff Reporter Kim, Yongjoo | kyj@etnews.com